Student government president joins GTCC board of trustees
Published on: December 1, 2022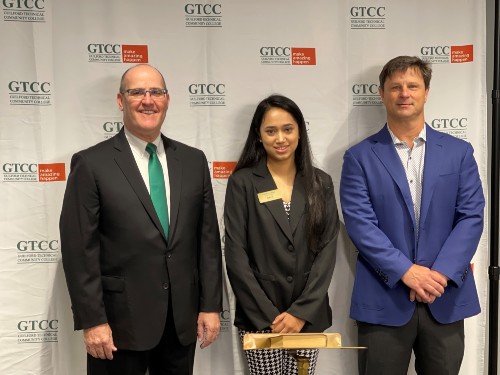 GTCC President Anthony Clarke, Ph.D. (left), and board vice chair Matt Soule (right) welcome Jeshika Lamsal, SGA president, to the board of trustees.
JAMESTOWN, N.C. (Dec. 1, 2022) – Jeshika Lamsal, a sophomore at Guilford Technical Community College, has been appointed to the GTCC board of trustees.
The philosophy major and Nepal native was elected GTCC's Student Government Association (SGA) president for  2022-2023. The position comes with a one-year seat on the board.
"Being appointed as a board trustee is the greatest honor of my life," Lamsal said. "Learning and understanding behind the scenes … how much it takes for a college to run is incredible. I feel proud to represent the GTCC student body at the board meetings. I want to thank everyone at GTCC who has invested their time and effort to make amazing things happen on campus."
Lamsal and her family immigrated to Texas with her family when she was entering the ninth grade. They moved to Greensboro from Texas just weeks after Lamsal graduated from high school and shortly before classes began at GTCC. She immediately became involved in school activities.
She was elected as a campus representative coordinator for the SGA in the fall of 2021, leading to her election as SGA president last spring. She was also appointed president of Phi Theta Kappa, GTCC's honor society, in the spring of 2022 and earned a spot as a member of the college's Student Ambassadors program.
Off campus, she is an AmeriCorps member fulfilling a commitment of serving as an English for Speakers of Other Languages (ESOL) instructor for one year.
"I like to get involved. When I got here, I didn't want to be a student that just came to class," Lamsal said. "I wanted more in my life. When I was growing up in Nepal, I didn't have the opportunities that GTCC offers."
Lamsal has been accepted at UNC-Chapel Hill to finish her undergraduate studies and then plans to attend law school.
Back to All Articles