Spielman to head Center for Academic Engagement
Published on: January 10, 2023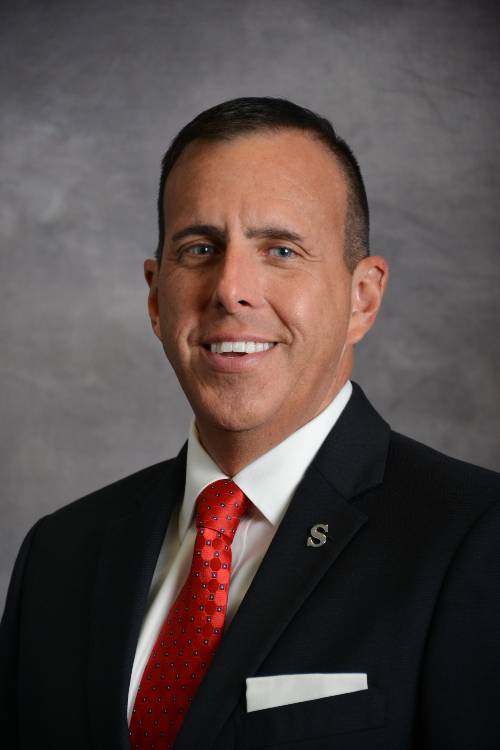 Brad L.R. Spielman is GTCC's new director of the Center for Academic Engagement
JAMESTOWN, N.C. (January 10, 2023) – Brad Spielman, who has worked in higher education the past 18 years, has been named the director of the Center for Academic Engagement for Guilford Technical Community College.
Spielman, a first-generation college graduate and a community college graduate, comes to GTCC from Des Moines Area Community College in Des Moines, Iowa, where he served as the associate provost of student services.
As the director of the Center for Academic Engagement, Spielman will be responsible for developing and managing academic support programs, implementing data-driven strategies to promote student retention, and serving as academic program chair for the department of student development and learning. He will work collaboratively with college faculty and student services staff to identify students in need of support inside or outside of the classroom and to develop effective strategies that engage students.
"Brad brings a great deal of knowledge and experience to this job," said Jeremy Bennett, D.P.A., associate vice president for curriculum instruction. "Thanks to his personal and professional experience with community colleges, he has a great understanding of the work we do at GTCC."
Spielman received an Associate Degree from Sauk Valley Community College in Dixon, Ill., before moving on to Drake University where he earned a Bachelor of Science in education. He has a Master of Science in educational leadership and policy analysis and is currently working on his dissertation toward a Doctor of Education in adult education, learners and leadership from Kansas State University.
"I am honored to join the GTCC community and contribute to the college's commitment to educational excellence, community engagement, and continuous process improvement," Spielman said. "Along with my outstanding colleagues in the Center for Academic Engagement, I look forward to strengthening the student experience and hone the intentional wraparound support students need and deserve."    
In addition to serving at Des Moines Area Community College, Spielman also has worked at Buena Vista University, Kansas State University and the University of Wisconsin-Madison. His professional background also includes extensive teaching experiences in K-12 and at the college level.
Back to All Articles