Proudfit named vice president for student services
Published on: February 8, 2023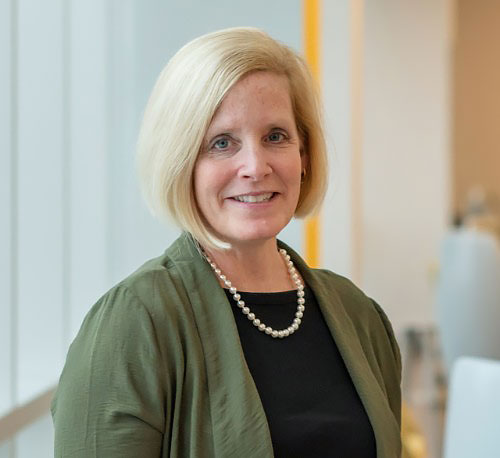 Ann Proudfit, Ph.D., will work to enhance student learning and success.
JAMESTOWN, N.C. (Feb. 8, 2023) – Ann Proudfit, Ph.D., who has spent the past two decades in college-level leadership roles, has been named vice president for student services at Guilford Technical Community College.
In her new position with GTCC, Proudfit will work to enhance student learning and success, promote consistency of service by ensuring college policies and procedures are fairly administered and ensure the department's compliance with state and federal regulations. In addition, she will also work with her team to promote and sustain a diverse and inclusive student body.
"Having Dr. Proudfit join GTCC as the vice president for student services is going to have a huge, positive impact on the college," said Anthony Clarke, Ph.D., president of GTCC. "She brings an invaluable amount of leadership experience to the position. She has a great understanding of how things work at the community college level and how to enhance our students' experience."
Proudfit is not new to designing positive student learning environments, having served as project director for academic strategies at Guilford College for the past year and a half after relocating to Greensboro with her family in December of 2020. While at Guilford College, Proudfit led efforts in program growth and development, student retention and strategic planning.
Prior to her time at Guilford College, Proudfit spent 23 years in leadership roles at Cuyahoga Community College in Cleveland, Ohio, where she served as dean of student affairs at the college's Westshore Campus in Westlake, Ohio, for more than 10 years.
"As vice president of student services, I work collaboratively to plan and lead efforts that help our GTCC students access our high-quality educational programs and make use of a variety of services that are in place to support their success," Proudfit said. "I'm excited and honored to serve in this role because I'm able to lead a talented and dedicated team to support student access, success, and completion. I look forward to effectively meeting the needs of our students and community while working with the amazing team at GTCC."
Proudfit completed her undergraduate studies at Washington & Jefferson College where she earned a triple major in English, sociology, and education. She has a Master of Arts in sociology from The Ohio State University and a doctorate in higher education administration from the University of Toledo with a concentration in community college leadership.
Back to All Articles