Alum's strong sense of belonging at GTCC leads to job
Published on: March 16, 2023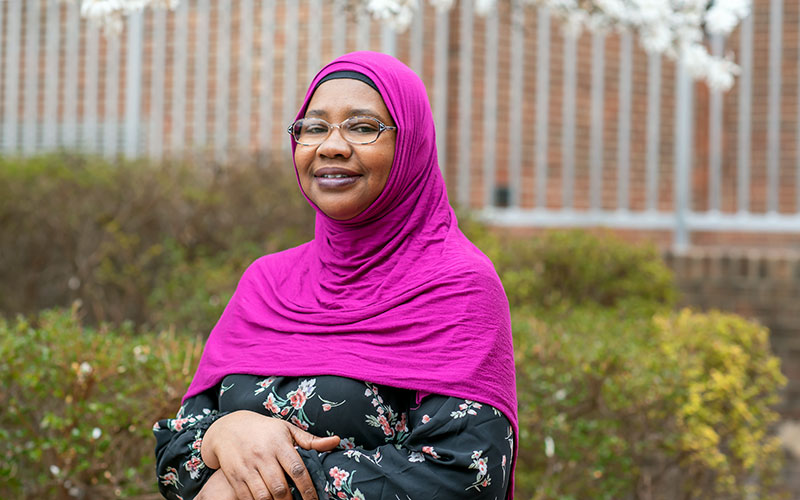 "GTCC is so culturally diverse, but I think at GTCC everybody can find their place," says Fati Seyni, a GTCC alum and now an employee.
In 2017, Fati Seyni, her husband, and four children emigrated from Niger in northwestern Africa. An accountant in her home country for eight years, she knew she would be starting over in the United States.
"When I first came here, my communication was limited to only few words in English. The first thing I did was to learn the language. It was very difficult, but I found that GTCC had the resources to make it easier," Seyni said.
Today, she is a full-time employee in financial aid at Guilford Technical Community College and couldn't imagine a better place to work.
After learning English and with a solid grasp of the language, Seyni then enrolled at GTCC as a full-time student in the spring of 2019.
Because of her background in accounting, Seyni decided to pursue an associate degree in that subject. There were some early bumps in the road for her.
"Numbers are universal, but the way accounting is done can be different. The technology also can be different."
Fortunately, an instructor pointed her toward GTCC's extensive tutoring center.
"Utilizing the tutoring center was very helpful," she said. "One of my English instructors showed me where the tutoring center is. Sometimes I didn't understand not just the language (in accounting classes), but the technology. I realized they did amazing things in our tutoring center."
Seyni remembers thinking on that very first day in the tutoring center that it would be an amazing place to work, and she eventually did. But she knew going in, it would be a short-term position.
"The first time I came to GTCC, I found a great environment. In my journey I felt a sense of belonging at GTCC," she said. "After I graduated, when I was trying to find a job, I filled out applications for many jobs at GTCC. I was told there were other schools looking for employees, but I wanted to work at GTCC."
Someone suggested she work at the tutoring center, the place she loved so much as a student, until the right position opened. She jumped at the opportunity.
"In the spring of 2022 I started tutoring, tutoring accounting students, Excel classes, all of the classes I had taken, I tried to help with."
She praised GTCC resources that support students not only during their studies but also in preparing for careers. She cites the financial aid office, the career services office and other services that aided in her success.
"English classes were free and that was a tremendous opportunity, but I knew the associate degree would not be free," Seyni said. "I knew I needed help with paying for classes, so I talked to the financial aid office staff and they were so helpful. Thanks to their help, I was able to graduate debt-free.
"Likewise, I found that the career services are playing an important role for students' success at GTCC."
As she helped students in the tutoring center, she kept a constant eye on the GTCC website for a job that fit her skill set. It was worth the wait. In September 2022, she was hired by the GTCC financial aid department to be a member of the financial aid management team.
"GTCC is so culturally diverse, but I think at GTCC everybody can find their place." 
Back to All Articles