Maintenance supervisor trading hard hat for wrench, rod, road-trip
Published on: March 28, 2023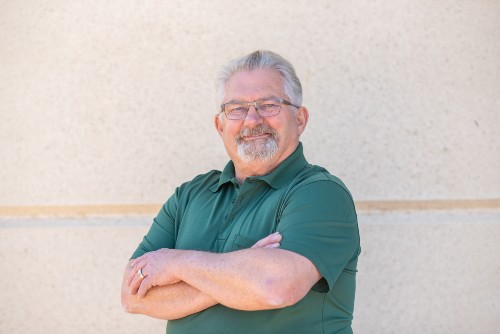 "It's about hard work and caring, and I care," says Randy Thompson, head of maintenance, who is retiring.
When Randy Thompson was hired to be part of Guilford Technical Community College's maintenance department on April 1, 2011, he was at the very bottom of the seven-person department.
Thompson's first day was April Fool's Day. He remembers it clearly.
"It was a Friday. My boss said I could start that day as long as I came back on Monday," Thompson said.
He's missed very few days of work since then, and for the last four years, as the college's supervisor of general maintenance, he's overseen a huge operation.
On March 31, the 67-year-old Thompson will clock out of GTCC for the final time as the head of the department, a position he has held for the past four years.
"It's been a good job. I have been blessed, really and truly. It's about hard work and caring, and I care. People used to tell me all the time to slow down because I'm just wide open all the time. Now people say if you want it done, call Randy," Thompson said.
"We take care of a million-and-a-half square feet. I have to make sure everything is operational and going smoothly."
For Thompson and his eight-person maintenance crew, "everything" runs the gamut from setting up for large events like graduation, small remodeling projects, laying carpet and flooring, and the list goes on and on.
Then there are emergencies. You could put that at the top of the list because Thompson is the one who gets the call when there is a maintenance need on campus.
"I'm on call 24-7. I have to answer all the calls," said Thompson, who has all of his desk calls transferred to his cell phone so he can answer immediately. "There are things like floods … we've actually had several floods I've had to work. There've been lots of things late at night we've had to take care of."
What's the oddest emergency he's faced? "I had to get somebody's car keys out of the toilet. I think of that every time I see that person." Drains clogged by baby diapers have also been a foe on many occasions. "You can see some strange stuff on this job," he said.
Going forward, his days will be spent working on the 1937 Chevrolet he's rebuilding, chasing striped bass from his pontoon boat, offshore fishing with friends, and lots of travel with his wife.
Back to All Articles