Guilford Technical Community College Titan Tech summer sessions offer an array of opportunities for Triad teens
Published on: May 8, 2023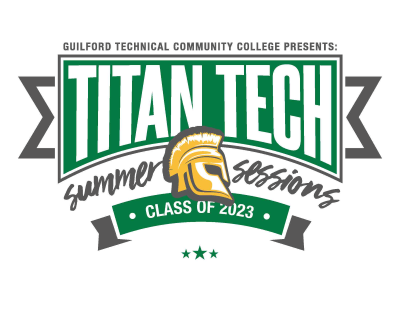 JAMESTOWN, N.C. (May 8, 2023) – Registration is now open for Guilford Technical Community College's Titan Tech summer sessions for teens ages 13-18, offering two, one-week sessions June 19-23 and June 26-30 from 9 a.m.-3 p.m.
This summer enrichment opportunity includes options from health sciences, social media, welding, entertainment technology, cyber investigation and more. The sessions are structured to be fun, hands-on experiences that allow teens to explore potential careers and educational paths available at GTCC.
All sessions offer a low faculty-participant ratio with intensive curriculum and activities that change daily. GTCC's facilities are utilized with the college's faculty serving as counselors.
All Titan Tech summer sessions meet on the Jamestown campus, except for Hit Record, which meets on the High Point campus. Thanks to support from the GTCC Foundation all sessions are $75 for five days and includes lunch.
Below is a brief description of each session:
The Scrub Life (June 19-23): Interested in the field of health care? The camp can help a student find out if they're suited for a career as a nurse, medical assistant, hospital technician, and much more. The session will dive into the health sciences and aims to quickly show what makes these jobs so demanding but also so critical in our communities.
Art Meets Tech: Happily Ever After (June 19-23 and June 26-30): Students can turn ideas into reality using the latest graphic design and illustration tech. From logos to shirt graphics, phone apps to concert posters, graphic designers create visuals for everything we do. Illustrators and digital artists even create the game characters, infographics, and team mascots we all love. This camp will be a journey through the design process, from sketching to software, printing to promotion. This hands-on camp will cover Adobe design software and amazing digital illustration techniques.
Cyber Crime Busted (June 19-23 and June 26-30): This camp will showcase how cybercrimes infringe upon our privacy, security, and personal well-being, ultimately causing hundreds of billions of dollars in lost revenue across the world each year. Explore the foundations of cybercrime and digital forensics using the latest tools for hacks, including cracking mobile devices.
Social Media Mastery: Be a True Influencer (June 19-23): From TikTok to Instagram to LinkedIn, social media powers our lives. We love it, hate it, and consume it like addicts. In this session, participants will learn the most current and expert ways to rise to the top through video, imagery, and words, moving away from our impulses so that we can master provocative content. Plus, students will learn some Photoshop and receive professional lighting tips for recording.
Iron Man's Fab Lab (June 19-23): Using electrical plasma, participants will explore the world of welding. Learn basic safety protocols, MIG welding, and robotic welding programming fundamentals. On a small mild steel project, students will have fun performing welding via the latest technology.
Photo & Video Like a Pro (June 19-23 and June 26-30): Students will learn the latest in photography and videography while working with award-winning faculty and industry professionals. Participants will use cutting-edge applications and techniques to produce professional-quality photos and videos, all with a focus on creating meaningful, engaging content.
Hit Record (June 26-30) *High Point Campus: Love music? This intensive behind-the-scenes experience with creation and execution of a band's studio recording using professional signal processors, software, and microphones in our elite studio. Students will spend the week immersed in the world of sound, producing and recording a song, start to finish.
First Responder to the Rescue (June 26-30): Do you have what it takes to be a police officer, firefighter, or emergency medical technician? Join this session exploring each of these public safety occupations. This is an opportunity to experience some of the toughest, yet most rewarding professions.
Spots fill up quickly, and the registration deadline is June 14. For more information or to register, visit: gtcc.edu/titantech, call (336) 334-4822 ext. 50611 or email titantech@gtcc.edu.
Back to All Articles