GTCC, Out of the Garden Project partner to bring food monthly to High Point campus
Published on: August 29, 2023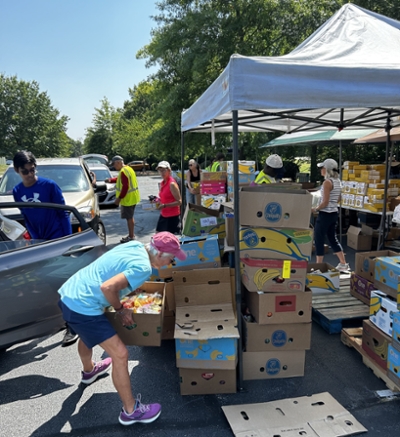 Out of the Garden Project workers assist at one of its recent Fresh Mobile Markets in the Triad.
JAMESTOWN, N.C. (Aug. 29, 2023) – Guilford Technical Community College students and community members will have the opportunity to obtain fresh produce and meat at no charge on the High Point campus once a month through a partnership with its Titan Link services and Out of the Garden Project.
Out of the Garden Project will provide a Fresh Mobile Market food truck on the High Point campus the first Wednesday of every month for a year. Distribution begins 10-11:30 a.m. on Wednesday, Sept. 6 or until the food is distributed in the parking lot adjacent to the Johnson Warehouse at 719 S. Hamilton St., High Point.
List of dates:
Wednesday, Sept. 6
Wednesday, Oct. 4
Wednesday, Nov. 1
Wednesday, Dec. 6
Wednesday, Jan. 3
Wednesday, Feb. 7
Wednesday, March 6
Wednesday, April 3
Wednesday, May 1
In addition to fresh produce and meat, there will be shelf-stable food, bread, and grab-and-go snacks.
The partnership is funded through a $9,000 investment from Titan Link and the GTCC Foundation.
Titan Link provides resources and information that assists GTCC students, staff, and faculty with non-academic challenges such as housing, transportation, food insecurity, childcare, and emergency loan/grant/scholarship application access for GTCC.
"This partnership is going to impact and benefit so many people on our campus and throughout the community," said Natashia McEachern, interim director for Titan Link. "A number of our students struggle with a number of life barriers. The opportunity to grocery shop for free, get fresh produce and meat, will help ease some of life's burdens for them and their families. The same is true for so many other members of our community."
Out of the Garden Project, a Triad-based nonprofit organization, began in 2008 serving a few families with food on Friday so they would not go hungry over the weekend.
"We are honored to partner with this leading academic institution in striving to provide food for those in need in our midst both at GTCC and in the community," said Don Milholin, executive director and president, co-founder of Out of the Garden Project.
With the help of hundreds of volunteers and donors, the organization has distributed 20 million meals since, distributed four million meals last year, distributes 325,000 meals monthly and serves 2,000 students and families each week.
Fresh Mobile Markets, an Out of the Garden program, serves over 3,000 families every month throughout 20 locations in the Piedmont Triad. Families can expect to leave a Fresh Mobile Market with around 65 pounds of food.
For event information, visit the GTCC Calendar.
Back to All Articles