Hausner signs with The Citadel, becomes first GTCC player to land baseball scholarship with four-year institution
Published on: July 31, 2023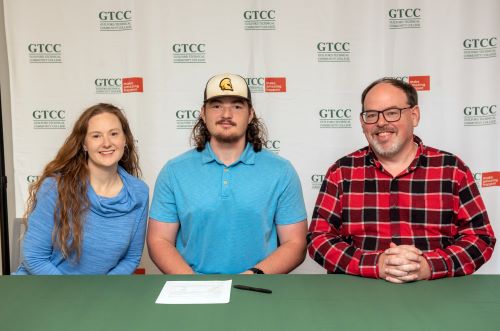 "Fortunately, the injury didn't impact my recruiting. Other schools had shown an interest but couldn't give me what The Citadel could," Anthony Hausner says.
Injuries and COVID took a toll on Anthony Hausner's high school and Guilford Technical Community College baseball career. Still, even with a limited number of innings as a high school junior and as a college sophomore, he will be attending The Citadel this fall on a full baseball scholarship.
He is the first GTCC baseball player to receive a full scholarship to a four-year institution.
Hausner put together eye-catching stats as a GTCC freshman in 2022, playing the infield and pitching. He compiled a .359 batting average with nine home runs, made just one error at first base, and was 1-2 on the mound, earning a slot on the All-Region 10 team.
Hausner was hampered by a hamstring injury this spring, playing in just 18 games for the Titans, but fortunately, the injury and limited play had no impact on his college future.
He signed the scholarship with The Citadel, located in Charleston, South Carolina, last fall after that strong freshman year for GTCC.
"Fortunately, the injury didn't impact my recruiting. Other schools had shown an interest but couldn't give me what The Citadel could," Hausner said, explaining his decision to sign before his sophomore season.
"Now, I've just got to go down there and prove I can do there what I've done here."
That shouldn't be a problem, Hausner said. Even though it's a step or two up in the level of competition, he believes his skills are still developing.
"I lost my junior year of high school baseball to COVID. We only played seven games. When I came to GTCC, I was still developing. Because of losing that year, I'm a year behind, so I'm still developing," said Hausner, who was recruited by GTCC as a third baseman and pitcher but was moved to first base when he arrived to play for the Titans.
When Hausner was healthy at GTCC, he never spent any time on the bench. He was the team's top pitcher, with a fastball clocked at 94 mph. When not on the mound, he played first. The 6-foot-3, 245-pound Hausner said a similar plan would probably be utilized at The Citadel, and Citadel coach Tony Skole agrees.
"Our fans are going to love watching Anthony play. He is a physical player who can impact a game in many ways. We plan to use his two-way abilities to their fullest extent," said Skole, whose Bulldogs were 23-31 this spring. "Anthony is already one of the top hitters and power threats in the state of North Carolina, and on the mound, he is coming into his own."
Hausner is honing his skills this summer, playing for the Xenia (Ohio) Scouts in the Great Lakes Collegiate League.
As a transfer student, Hausner will not be involved in any of the military aspects of The Citadel and will be regarded as a civilian student, with classes at night and online.
Back to All Articles