Guilford Technical Community College appoints 2 to board of trustees
Published on: September 7, 2023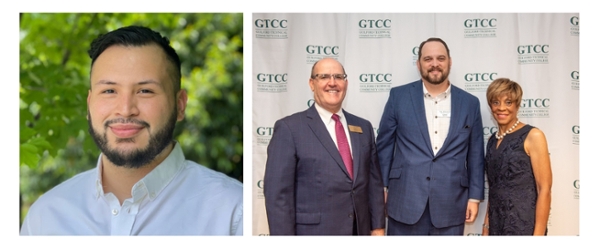 Jose Bernal Munoz (left image) and Anthony Clarke, Ph.D., Andrew L. Rodenbough (center) and Treana A. Bowling, Ed.D. (right image).
JAMESTOWN, N.C. (Sept. 7, 2023) – Jose Bernal Munoz and Andrew L. Rodenbough have been appointed to the Guilford Technical Community College board of trustees.
Bernal Munoz is the Guilford County Schools appointment to the board of trustees while Rodenbough was appointed by the governor's office.
Bernal Munoz serves as the interim executive director of FaithAction International and oversees the daily operations of the organization and its staff.
Rodenbough, a Greensboro native, is an attorney whose practice focuses on business litigation, noncompete litigation, and franchise litigation. He is a partner at Brooks Pierce and is based in the firm's Greensboro office.
"We are thrilled and honored to welcome Mr. Bernal Munoz and Mr. Rodenbough to the GTCC board of trustees," said Anthony Clarke, Ph.D., president of GTCC. "They bring a wealth of knowledge to the college and both have a great understanding of the value of GTCC to the Triad and of the educational needs of our community."
Bernal Munoz, a native of Mexico, earned a Bachelor of Science in accounting from Guilford College, where he also minored in community problem solving and Latin America studies.
He has worked the past seven years with FaithAction and has managed and worked within the legal department, the immigrant assistance center, and oversee the administrative and the operational aspect of the organization.
"It's an honor to be named to the GTCC board of trustees by the Guilford County school system to represent the Latino community," Bernal Munoz said. "As a first-generation immigrant that firsthand experienced many obstacles to further my education due to my immigration status, my goal is to be a voice for other immigrants in the Triad and assist them with achieving their higher education goals."
Rodenbough is a graduate of the University of North Carolina School of Law and earned his undergraduate degree from UNC. A member of the North Carolina Bar Association, Rodenbough regularly represents clients in state court, federal court and the North Carolina Business Court as well as appellate courts.
"I'm honored to have been appointed to serve on the GTCC Board of Trustees," Rodenbough said. "As a lifelong resident of Guilford County, I'm excited for the opportunity to help ensure the availability of quality training and education for the citizens of our county and state." 
Back to All Articles