Foundation's athletic scholarships vital to helping pair of Titan volleyball players achieve dreams
Published on: October 2, 2023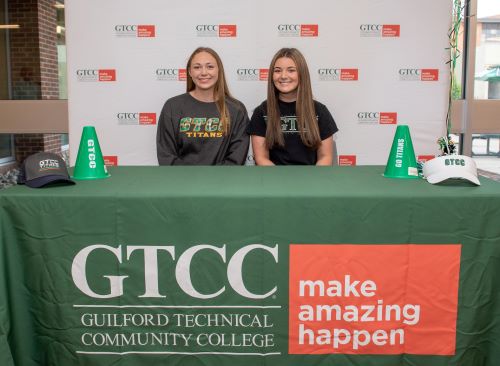 GTCC Volleyball players Carson Simmerson and Mallory Duggins sign their letter of intent to play with GTCC in the spring of 2023.
Mallory Duggins does not present an imposing figure on the volleyball court at 5-foot-3. Carson Simmerson, at 5-foot-10, is a bit more imposing. Together, they form quite the formidable duo on the court for the Guilford Technical Community College volleyball team.
Duggins is a first-year setter for the Titans. Duggins' job is to set the ball up for Simmerson, a hitter, and other frontline players who spike and block.
Duggins and Simmerson are bound by their love of volleyball and their search for unique educational programs. Not only are they teammates, but they are also roommates.
Duggins wants to pursue a career in radiography at GTCC. Simmerson wants to be a pastry chef and chose GTCC to help her on that path.
Both are recipients of athletic scholarships funded through the GTCC Foundation.
"The scholarship honestly has been very important. I wanted to move closer to campus. Not having to pay for school has helped me with that," Duggins said. "The scholarship is what helped make all of this happen."
"I actually wasn't planning on attending college and then I got the scholarship," said Simmerson, who is from Salisbury.
"Living closer to GTCC has certainly made managing life as a college athlete easier-like the early-morning practices.
"You have to put in so much more work in college. In high school we didn't have 5:30 a.m. practices," Duggins said.
And the difference goes way past early-morning practices.
"The level of competition is so much higher in college. We played schools at our own level in high school. In college everyone is good. The competition is really good."
Volleyball has been part of Duggins' life as long as she can remember. Continuing to play in college is just an extension of her volleyball journey.
"I grew up watching my dad and sister play. They were really into it and were really good. Then I got into it. It's my happy place. When I'm playing, I think about volleyball and nothing else," Duggins said.
The 19-year-old Duggins went to high school at Salem Baptist Christian School in Winston-Salem where she was captain of the volleyball team both her junior and senior seasons. She was also a solid student, earning membership in both the Beta Club and the National Honor Society. She graduated in 2022.
Simmerson graduated from North Hills Christian School in Salisbury last spring. She led her team to the state volleyball tournament semifinals last season and was captain of the team in both her junior and senior seasons. She earned all-state honors as a senior.
Both Duggins and Simmerson have one more year of eligibility with GTCC's volleyball team, and both are also looking forward to starting their careers. Duggins will soon apply to radiology school. Simmerson's goal is to work as a pastry chef, for now.
"The goal is to work in a bakery for a bit, but the end goal is to open my own bakery one day," she said.
Back to All Articles