GTCC promotes longtime instructor to program director of culinary and hospitality department
Published on: October 12, 2023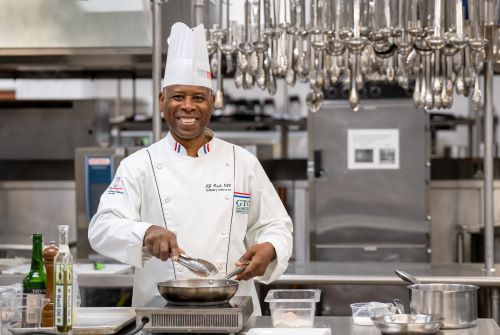 "It's such a pleasure to be in a position to help students and the community in so many ways every year," L.J. Rush says.
JAMESTOWN, N.C. (Oct. 12, 2023) – L.J. Rush, who has served as a culinary instructor and interim program director of Guilford Technical Community College's culinary and hospitality department, has been named the department's program director.
As program director, Rush will provide leadership and management to the culinary and hospitality management programs by ensuring the curriculum is relevant, high-quality and offered in accordance with American Culinary Federation standards. Rush will work with local industry partners to ensure GTCC students are prepared for positions in local establishments.
"It's such a pleasure to be in a position to help students and the community in so many ways every year," Rush said. "Creating great food has always been my passion. With the help of all the great professionals in the GTCC hospitality education department, I hope to work with students to make sure they make great decisions about their path to success."
Rush, who has been a certified executive chef for more than 20 years, came to GTCC as an instructor in 2012 after serving as a chef at several Triad area hotels and conference centers, bringing years of hands-on experience to his role at the college.
The 21-year GTCC veteran was responsible for starting the GTCC food truck program in 2016 as a new entrepreneurship program in the culinary department.
"We are fortunate to have someone like L.J. for this position. With his years of experience as a chef, he brings a positive perspective to the position," said Beth Pitonzo, Ph.D., GTCC senior vice president of instruction. "He understands the culinary business from the inside out, from teaching inside the kitchen, planning, scheduling, budgeting, and of course preparing a wonderful meal.
"With L.J. we know our students are going to get well-rounded instruction with the best programs possible in place."
Rush has an associate degree from Wilkes Community College, with a diploma as a food preparation specialist. He served a one-year apprenticeship at Pinehurst Hotel after graduation.
Back to All Articles