GTCC Aviation Students Receive National Recognition
Published on: October 10, 2018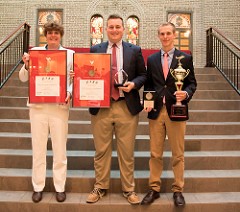 JAMESTOWN, N.C. — Students Zack Brendle and Logan Wicks from Guilford Technical Community College's aviation program received top awards at the National Intercollegiate Flying Association's (NIFA) Safety and Flight Evaluation Conference (SAFECON) May 9-14, 2017 in Columbus, OH.
Wicks placed second in Short-field Accuracy Landings and seventh in the overall Top Pilot national standings, having won Top Pilot at the regional level.
Together, Wicks and Brendle placed 11th in the Crew Resource Management Flight Simulation and received the Top Two-Year School Award, which is presented to the two-year school that accumulates the most points in the national competition.
In addition, GTCC Aviation Management program director, Audrey Floyd, was named 2017 Coach of the Year.
NIFA was formed for the purposes of developing and advancing aviation education. GTCC is one of 78 member schools in NIFA. At SAFECON 2017, there were 27 schools and 388 competitors under the direction of 86 coaches and advisors. This event involved 90 judges evaluating 23 flight and ground events.
Guilford Technical Community College is the fourth largest of 58 institutions in the NC Community College System. GTCC serves more than 40,000 students annually from five campuses and a Small Business Center. Learn more at www.gtcc.edu.
###
Back to All Articles