GTCC Honors Society Dedicates Bee Garden to Dr. Randy Parker
Published on: October 19, 2017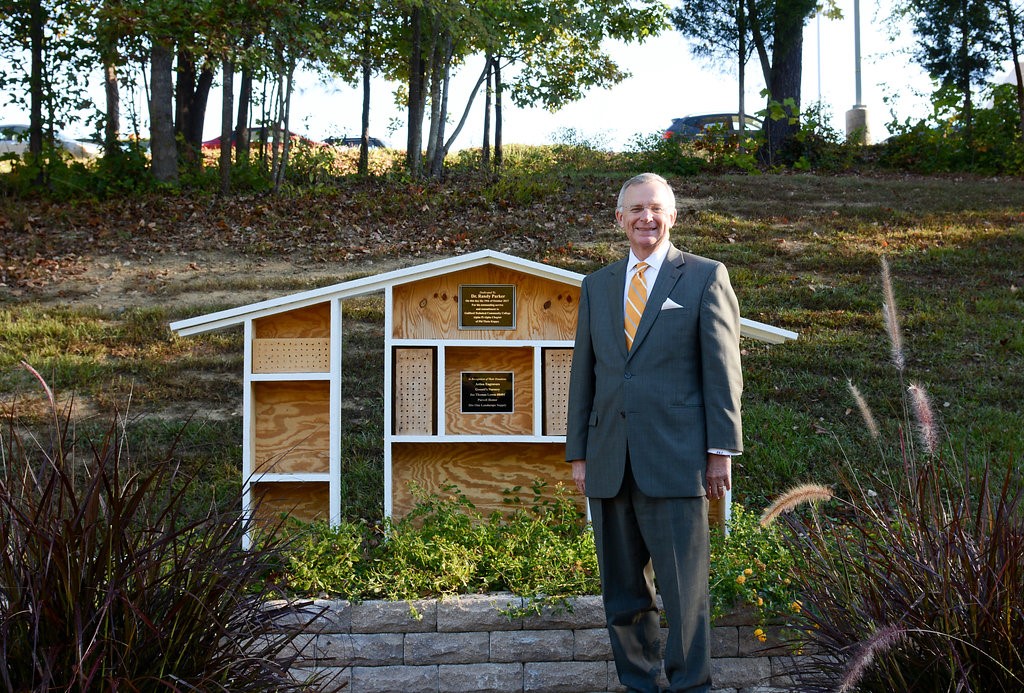 JAMESTOWN, N.C. (Oct. 19, 2017) — The Phi Theta Kappa (PTK) honor society at Guilford Technical Community College dedicated its bee garden today to GTCC President Dr. Randy Parker. A short ceremony was held at GTCC's Jamestown campus with PTK officers, GTCC board of trustees and sponsors in attendance.
"Working alongside the local community and the chapter's officers has been integral to our project's success," said John W. Kelly, GTCC Alpha Pi Alpha chapter president. "For the chapter's officers, this garden is our legacy."
The chapter dedicated the garden to Dr. Parker in recognition of his outstanding support and commitment to GTCC's Alpha Pi Alpha chapter of PTK.
The Dr. Randy Parker Alpha Pi Alpha Bee Preservation Garden is part of the PTK Honors in Action program. As part of the program, students apply learning and practice real-world problem solving by developing an action-oriented project related to an Honors Study Topic. The GTCC PTK chapter linked its project to a natural and engineered action.
The pollinator garden was made possible through a grant from the Honey Bee Conservatory. The garden includes an engineered bee house for mason and leafcutter bees, as well as pollinator plants that provide a natural habitat for the bees. The garden is located near the pond off Bonner Drive on GTCC's Jamestown campus.
The Alpha Pi Alpha officers worked with individuals and businesses in the local community to build the garden. Sponsors included SiteOne Landscape Supply, Gossett's Landscape Nursery, Lowes Hardware (store #0404), Action Engravers, Purcell Hester and Robert Meyers and Crew.
Phi Theta Kappa is the world's largest and most prestigious honor society for two-year colleges. Guilford Technical Community College's PTK Chapter, Alpha Pi Alpha was founded in 1989. The honor society rewards students who have achieved a 3.25 or higher grade point average. GTCC's Alpha Pi Alpha chapter currently has 250 students.
Guilford Technical Community College is the fourth largest of 58 institutions in the North Carolina Community College System. GTCC serves more than 35,000 students annually from five campuses and a Small Business Center. Learn more at www.gtcc.edu.
###
Back to All Articles