Guilford Technical Community College Aviation Open House and Career Fair Oct. 24
Published on: October 12, 2017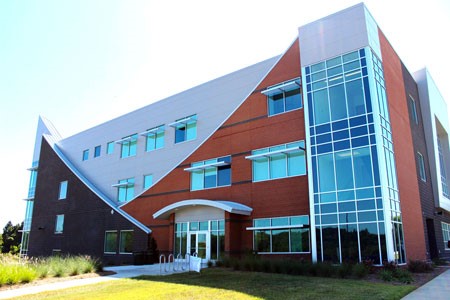 JAMESTOWN, N.C. (Oct. 12, 2017) — Guilford Technical Community College's Aviation program will host an open house and career fair 4 p.m. to 7 p.m. Tuesday, Oct. 24 on all three aviation campuses. The free event will give attendees an opportunity to network with potential employers and learn about aviation's most in-demand careers.
"The aviation programs offered by GTCC prepare students for entry-level jobs in high-paying professions," said Nick Yale, director of GTTC's aviation program. "The open house and career fair are great opportunities to learn about everything an aviation career has to offer."
Aviation manufacturers and their suppliers require workforce to build, service, maintain and pilot a global fleet of commercial and general aviation aircraft. The industry is rapidly growing, which translates into jobs.
According to Boeing's annual market forecast, the global commercial fleet is projected to double in 20 years. Additionally, three-quarters of the 23,500 commercial jets in service today will need replacing, contributing to an overall demand for 41,030 new airplane deliveries by 2036. This growth will add more than 120,000 pilot and 180,000 technical job opportunities over the next two decades in North America alone.
The Oct. 24 open house event will allow attendees to meet faculty, tour facilities and learn more about the six aviation programs offered at GTCC. The registration deadline for spring 2018 enrollment is Dec. 15, 2017.
Aerostructures Manufacturing and Repair
This new program prepares students to assemble, fabricate, inspect, manufacture, repair, test and manage the construction of aerostructures. The program also includes coursework for aircraft cabin solutions and interiors. Students can earn a diploma in a year or receive two, half-year certificates in sheet metal and composite structures.
Aviation Electronics Technology (Avionics)
The avionics program provides students with the basic knowledge and skills to enter the field as a technician and prepares students for the avionics licensing agency examination.
Job opportunities for avionics technicians are high paying and high demand. According to the Bureau of Labor Statistics, the median pay for an avionics technician in 2016 was $60,270. Graduates of this GTCC program qualify for entry-level avionics technician positions in an avionics repair station, an airfield fixed base operator's avionics facility or an independent repair facility.
Professional Piloting, Career Pilot
The professional piloting program prepares individuals for careers with commercial airlines, general aviation operators, corporate flight departments, state and federal aviation organizations and military service.
Airline and commercial pilots earned a 2016 median pay of $105,720 according to the Bureau of Labor Statistics. Pilot careers are forecast to experience a five percent growth in the next decade.
Aviation Management
This two-year degree program prepares students for a variety of aviation-related careers with commercial airlines, general aviation operations, the aerospace industry, military contract service, and state and federal organizations.
Aviation Systems Technology (A&P)
This program provides individuals with the knowledge and skills to qualify for an aircraft mechanics certificate with airframe and powerplant ratings. Students successfully completing the program qualify for employment as entry-level mechanics with air carriers, manufacturers, assembly facilities, repair stations, fixed base operators, flight schools and government aviation operations.
Aviation Manufacturing Quick Careers
The quick careers program provides students with the knowledge and skills to obtain jobs with Triad aerospace manufacturers within a shortened training requirement. The areas of focus are sheet metal manufacturing and composite systems manufacturing. These skills are in demand and apply to both aviation and technical manufacturing jobs.
GTCC offers multiple registration windows to start; interested individuals are invited to speak to faculty during the career fair to enroll.
Job seekers attending the career fair being held at GTCC Aviation II will be able to connect with the employers including:
HAECO
Honda Aircraft Company (HondaJet)
Honda Aero (Engines)
Piedmont Aviation
TACAir
Triad Aviation Academy (TAA)
Piedmont Flight Training
GoJet Airlines
TransStates Airlines (TSA)
JAARS
Elon Aviation
Event Locations:
T.H. Davis Aviation Center I (Open House)
260 N. Regional Road
Greensboro, N.C.
GTCC Aviation Center II (Open House and Career Fair)
819 Radar Road
Greensboro, N.C.
GTCC Aviation Center III (Open House)
1053 Old Stage Coach Trail
Greensboro, N.C.
All events are free and open to the public. Bring your résumé!
For more information about the open house and career fair, contact Nick Yale at 336-334-4822, ext. 59014 or nayale@gtcc.edu.
Guilford Technical Community College is the fourth largest of 58 institutions in the North Carolina Community College System. GTCC serves more than 35,000 students annually from five campuses and a Small Business Center. Learn more at www.gtcc.edu.
###
Back to All Articles