GTCC Programs Receive Accreditation
Published on: November 15, 2017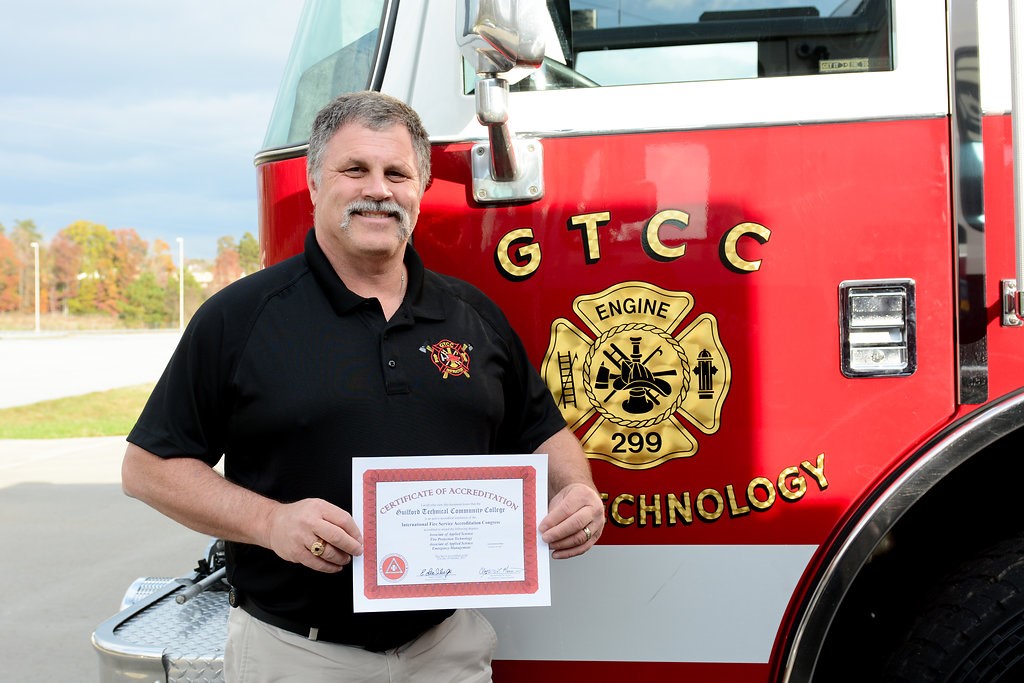 Jim Hitch, Instructor of Fire Protection and Emergency Management at Guilford Technical Community College, proudly displays the program accreditation GTCC recently received for its programs. (Photo Credit: Carrie Lilly)
Guilford Technical Community College's Fire Protection Technology and Emergency Management programs have received accreditation from the International Fire Service Accreditation Congress (IFSAC). With this achievement, GTCC becomes just the third academic institution in North Carolina with an accredited program in fire protection.
"The IFSAC evaluators were extremely impressed with our facilities and the college's strong support of both programs," said Jim Hitch, Instructor of Fire Protection and Emergency Management at GTCC. "With fewer than 40 IFSAC accredited programs in the United States, this achievement will set GTCC apart and provide students with the instruction they need to be successful in the field."
An IFSAC accredited program indicates that course offerings, institutional support, and qualified faculty are working together in completing their educational mission. Accreditation is granted only after a review by a panel consisting of representatives from other member institutions.
The IFSAC conducted its site visit at GTCC in late September. Initial accreditation for both programs was officially awarded in October.
The Emergency Management curriculum provides students with a foundation of technical and professional knowledge needed for emergency services delivery in local and state government agencies. The study involves both management and technical aspects of law enforcement, fire protection, emergency medical services and emergency planning.
The Fire Protection Technology curriculum provides students with the technical and professional knowledge necessary to make decisions regarding fire protection for both public and private sectors. The program also provides a sound foundation for continuous higher learning in fire protection, administration and management.
GTCC offers associate degrees, certificates and continuing education courses in Fire Protection Technology and Emergency Management.
The certificate programs are beneficial in particular to high school students enrolled in the Career Technical Education Pathways program and who are interested in pursuing careers in fire protection or emergency management. For established fire service personnel, GTCC offers advanced standing curriculum credit for transcript certifications in affiliation with the North Carolina Office of the State Fire Marshall.
The International Fire Service Accreditation Congress (IFSAC) is a not-for-profit, peer-driven, self-governing system of both fire service certifying entities and higher education fire-related degree programs. IFSAC's mission is to plan and administer a high quality, uniformly delivered accreditation system with an international scope.
Guilford Technical Community College is the fourth largest of 58 institutions in the North Carolina Community College System. GTCC serves more than 35,000 students annually from five campuses and a Small Business Center. Learn more at www.gtcc.edu.
# # #
Back to All Articles