GTCC to Host Screening of "Embargo," a Documentary Exploring the Complex Relationship between the U.S. and Cuba
Published on: November 6, 2017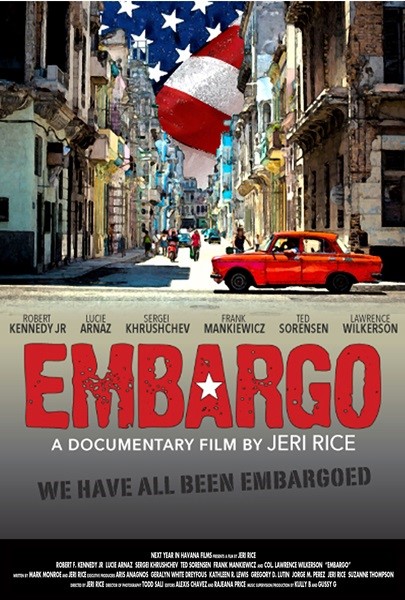 JAMESTOWN, N.C.  — Guilford Technical Community College will host a screening of the feature documentary "Embargo," on Tuesday, Nov. 14 from noon to 2:30 p.m. at the Joseph S. Koury Auditorium. The film explores the complex relationship between the United States and Cuba that ultimately led to the Cuban embargo. The event is free and open to the public.
"GTCC is committed to maintaining a global viewpoint for our students. Films like 'Embargo' help students understand the history of the tension that remains between the United States and Cuba," said Tom Warren, adjunct instructor of sociology at Guilford Technical Community College. "It fosters conversation and challenges students to ask themselves why the embargo is relevant today and why it continues. We are delighted to bring the film and its director, Jeri Rice, to GTCC."
"Embargo" is a film by first-time, female director, Jeri Rice. It debuted earlier this year at the Miami Film Festival and was released on Sept. 8, 2017.
Rice spent three decades in the fashion industry before changing course. In 2002, Jeri was invited to travel to Cuba with 40 influential women from the Pacific Northwest, the University of Washington and U.S. Senator Maria Cantwell. The group briefly met Fidel Castro and this prompted Jeri to ask, "Why does the U.S. still have an embargo against Cuba?"
The encounter planted the seed for Rice as she explored the blockade that had been in place, in one form or another, since the Eisenhower administration. October marked the 55th anniversary of the Cuban Missile Crisis, a tense 13-day period in 1962 during which the United States, Soviet Union and Cuba balanced on the verge of war. "Embargo" is the result of 14 years of research and poses the question, "Why is there still an embargo?"
The documentary film screening is part of International Education Week at GTCC. The college is hosting a number of activities from Nov. 13 – 17 to emphasize the importance of global literacy and cultural diversity.
Event Details
What:

Documentary film screening of "Embargo" and discussion led by its director, Jeri Rice. Watch the feature documentary trailer here

When:

Tuesday, Nov. 14, 2017 at noon

Where:

Joseph S. Koury Auditorium
GTCC Jamestown Campus
601 E. Main St., Jamestown, N.C.
Guilford Technical Community College is the fourth largest of 58 institutions in the North Carolina Community College System. GTCC serves more than 35,000 students annually from five campuses and a Small Business Center. Learn more at www.gtcc.edu.
Back to All Articles