Stand-Out GTCC Student Reflects on Journey to US Citizenship
Published on: November 1, 2017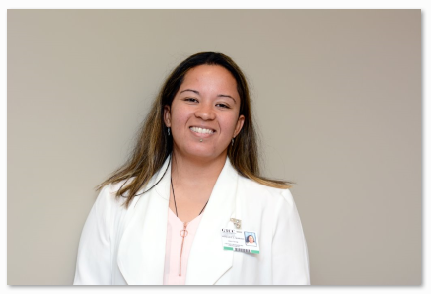 Francis Carrasco-Serrano, GTCC STEM Club President
GUILFORD COUNTY, N.C. -- Francis Carrasco-Serrano is a stand-out student at Guilford Technical Community College.
She has received several awards including ones honoring her academic achievements and her community service.
To appreciate why her accolades at GTCC mean so much to her, she wants people to know about a part of her life that for a long time she didn't talk about.
"The part that definitely stands out the most was my ordeal with immigration," she said.
Francis was born in Mexico City and came to North Carolina when she was a month old.
"When I was around the age of 20, this was about 2008, I went to Mexico to visit my mom. She had been sick at that time. When I came back I got arrested at the border and this was because regardless of how you try to come into the border, if you don't have the adequate paperwork, it's going to be a crime," she said.
Francis spent three years in and out of immigration detention centers and county jail, but during that time she read law books, determined to understand the process of becoming a US citizen.
"My father was an American citizen. He was born and raised in Ahoskie, North Carolina. He actually went to WWII. He was a veteran of the Army, so through derivative citizenship, since he was American that's how I was able to apply for the N-600," she said.
She became a US citizen in 2014.
It was a long and challenging process, but that journey encouraged Francis to pursue a college education.
"Right now, I am completing my associate of science."
Francis already has an associate's degree in cyber crime technology. She's interested in a career protecting kids from online predators.
Looking back on the last few years, she says she wouldn't change anything about what she has been through.
"I'm open about it now, but I was very, very ashamed of it," she said.
"It's important for the Latin community to know that just because you hit a bump in the road or maybe you hit a few bumps, that you can come out of that darkness or you can come out of that hole."
Francis has a 5-year-old son.
She says being a mother is a big part of why she is passionate about protecting children.
Francis is dually enrolled at North Carolina A&T State University to earn a bachelor's in computer science with an emphasis on cyber security.
She also tutors at GTCC and has a small business specializing in home repairs.
Read the full story here.
Back to All Articles