GTCC Hires Director of New Aviation Manufacturing Program
Published on: March 27, 2017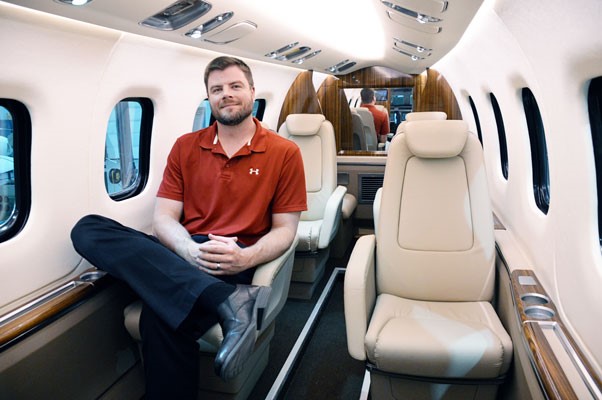 Daniel Reed. Photo by Carrie Lilly/GTCC
JAMESTOWN, N.C. — Guilford Technical Community College has hired Daniel Reed as program director of the college's fifth aviation degree program: Aerostructures Manufacturing and Repair. The new program will launch in fall 2017 and will prepare students to assemble, fabricate, inspect, manufacture, repair, test and manage the construction of aerostructures in an industrial setting, as well as in other areas of the advanced manufacturing world. Because of GTCC's close relationship with area aviation manufacturers, the program also will include course work dealing with cabin solutions and interiors.
"It is a great honor to be part of the development and implementation of a new aviation program at this institution," Reed said. "I have several years of experience in aviation and production management. I know what the aerospace industry is looking for in a new employee, and I want to be part of creating that."
Reed has 12 years of experience in aircraft maintenance, manufacturing, and flight operations. Most recently, he worked as a production manager for HAECO Cabin Solutions, managing the sub-assembly and final assembly of airliner passenger seats, as well as a plastic thermoforming and CNC routing manufacturing shop.
Reed began his aviation career as a structural mechanic in the U.S. Air Force at Pope Air Force Base, N.C. and as a helicopter pilot in the U.S. Army. He went on to work at Lockheed Martin Aeronautics in Greenville, S.C. as a structural mechanic, then relocated to the company's Sikorsky Aircraft Corporation in Coatesville, Pa., where he worked as a production manager managing the final assembly of the S-76D helicopter, and later a program manager. He also worked part time as a flight instructor at TAS Flight School in West Chester, Pa. for five years.
"Dan brings real-time, local aerospace manufacturing experience to the aviation programs at GTCC," said Nick Yale, Director of Aviation at GTCC. "This local experience is key in ensuring the programs we develop meet local employer's needs, with students progressing through the program. Dan's contacts in aviation manufacturing locally and nationally also will benefit GTCC by giving us technical support as we grow and mature the program."
A native of Princeton, W.V., Reed received an associate degree in aviation maintenance technology from the Community College of the Air Force (Pope Air Force Base, N.C.), a bachelor's degree in aeronautics from Embry-Riddle Aeronautical University (Daytona Beach, Fla.), and a master's degree in aeronautical science from Embry-Riddle Aeronautical University.
Guilford Technical Community College is the fourth largest of 58 institutions in the NC Community College System. GTCC serves more than 40,000 students annually from five campuses and a Small Business Center. Learn more at www.gtcc.edu.
Back to All Articles