GTCC Students Showcase Technical & Leadership Skills April 26-28
Published on: March 31, 2017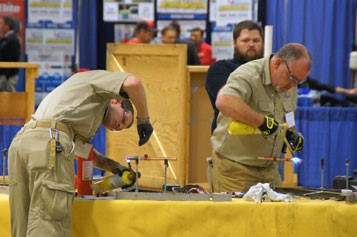 GTCC students Jeffrey Reichl (left) and Brent Kempke (right) competed in the HVAC contest as part of SkillsUSA North Carolina State Conference (2016).
JAMESTOWN – Guilford Technical Community College will participate in the largest showcase of career and technical education in North Carolina April 26-28.
This year, 70 GTCC students will compete in the SkillsUSA North Carolina State Conference featuring hands-on trade, technical and leadership contests, spanning more than 100 trade areas. GTCC will compete in 25 contests including advertising design, automotive refinishing, aviation, CNC turning, criminal justice, commercial baking, cosmetology, dental assisting, HVAC and welding.
First place winners in each contest will be eligible to represent North Carolina at the SkillsUSA National Leadership and Skills Conference June 19–23 in Louisville, K.Y. The event draws nearly 6,000 high school and postsecondary students.
GTCC is known as a top contender in state and national SkillsUSA competitions. At last year's state competition, 11 GTCC students placed first in their competitions and went on to win three national medals in Criminal Justice (bronze), Health Occupations Professional Portfolio (silver), and Restaurant Service (gold). Two additional GTCC students finished in the top 5 in the nation.
"There is nothing else like the spirit of competition, and the self-satisfaction a student gets from being a national competitor," said Jeff Faircloth, SkillsUSA chapter advisor and program director of GTCC's Automotive and Diesel program. "It validates their hard work and determination to be successful in their field."
The majority of this year's state contests will take place at the Greensboro Coliseum (1921 W. Gate City Blvd., Greensboro). GTCC will host some of the contests (including CNC, culinary, advertising design and dental assisting) on its Jamestown Campus (601 E. Main St., Jamestown) and Greensboro Campus (3505 E. Wendover Ave., Greensboro).
In addition, some contests will be held prior to the main competition.
April 7: Welding contest, Wilkes Community College, Wilkesboro, N.C.
April 13: Welding fabrication contest, Alexander Applied Technology Center, Catawba Valley Community College, Taylorsville, N.C.
April 12: HVAC contest, Greensboro Coliseum
For more information, visit www.skillsusanc.org.
SkillsUSA (formerly known as Vocational Industrial Clubs of America) is a national, nonprofit, career and technical student organization with more than 300,000 members nationwide. SkillsUSA is a partnership of students, teachers, and industry working together to ensure that America has a skilled work force. It provides opportunities for career and technical education students to enhance their technical skills through competitive events and to prepare for leadership in the world of work through employability and leadership skill development.  For more information, visit SkillsUSAnc.org and SkillsUSA.org. 
Guilford Technical Community College is the fourth largest of 58 institutions in the NC Community College System. GTCC serves more than 40,000 students annually from five campuses and a Small Business Center. Learn more at www.gtcc.edu.
###
Back to All Articles