GTCC Theater Crafts Spring Production From Scratch
Published on: March 16, 2017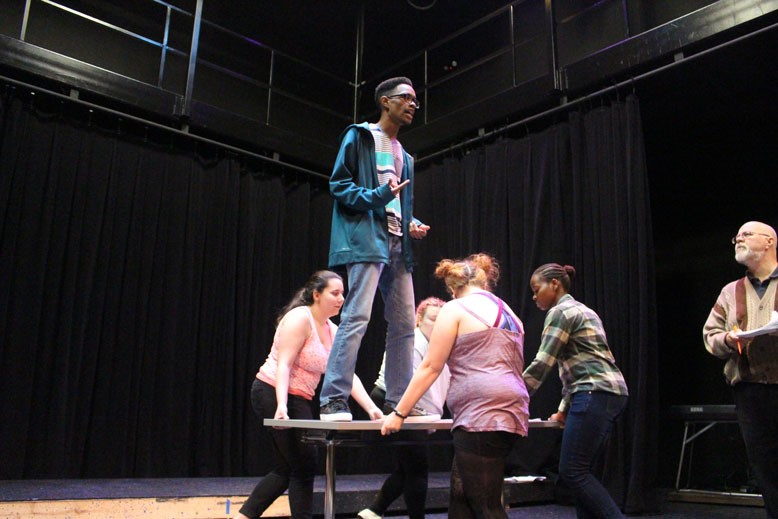 "Under Construction 2017" cast rehearses an original rap song by Isaiah Phifer (center). Pictured clockwise are: Mondonna Deldgie, Amber Shuping, Amandine Hamenyimana, Jordan Pinnix. Far right: Jefferson Fortner. Photo by Dana Greeson.
HIGH POINT, N.C. — Celebrate the diversity of America in "Under Construction 2017: A Collage of America Today," presented by Guilford Technical Community College's Theater program March 30–April 9.
Inspired by Charles Mee's "Under Construction," GTCC's "Under Construction 2017: A Collage of America Today" will incorporate scenes, stories, and songs that explore America through the different perspectives of Americans, creating a work that is, like America, permanently "Under Construction." The cast has devised and created the production organically through rehearsals, improvisations and exercises.
Performance dates are 7 p.m. March 30–April 1 and April 6–April 8; and 3 p.m. April 2 and April 9 at the Center for Creative and Performing Arts Theatre, H2 building, located on GTCC's High Point Campus, 901 S. Main Street.
"Creating a show as you rehearse is a challenge," said Joshua Waterstone, GTCC theater instructor and director of the project. "Our cast is diverse in background and stage experience. Some are primarily writers, some musicians, some actors, some new to the stage and bring a unique viewpoint. … We hope that audience members' thoughts are provoked to explore ways in which we can become united among the issues that divide us; that it will provoke thoughtful and respectful face-to-face discussions among diverse Americans."
Constructing a production from scratch has been a challenging and valuable experience for the cast and crew, including Jordan Pinnix, an actor and writer for the play.
"It is a lot more involved than I first imagined," Pinnix said. "We are doing almost all the writing ourselves. … It's not like Shakespeare or Goethe where the material is already there and has been rehashed millions of times so there's a way established of how to approach it. … And you're really putting yourself out there and exposing vulnerable parts of yourself not only to an audience but also to your fellow cast members. So it is a bit therapeutic. I'm dealing with some things that I kind of repressed before or just never really talked about."
Tickets are $5–$15 and are available online at http://www.highpointtheatre.com or by calling the box office at 336-887-3001. Tickets also will be sold at the door on performance nights.
For more information, contact Joshua Waterstone at jswaterstone@gtcc.edu or call 336-334-4822, ext. 50299.
Guilford Technical Community College is the fourth largest of 58 institutions in the NC Community College System. GTCC serves more than 40,000 students annually from five campuses and a Small Business Center. Learn more at www.gtcc.edu.
Back to All Articles