Guilford Apprenticeship Partners Offer Record Number Apprenticeships
Published on: August 20, 2018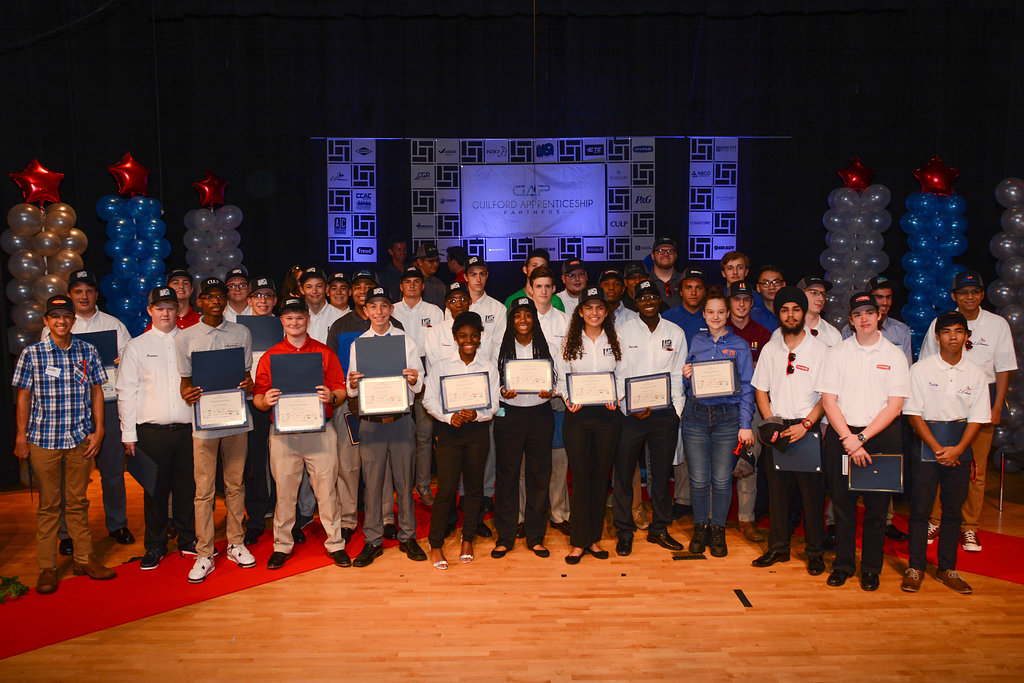 Forty area high school students and recent graduates signed apprenticeship offers during a signing day ceremony at GTCC on Aug. 16. The 2018 GAP apprenticeship class is nearly triple the size of the inaugural signing class of 14 students in 2016.
JAMESTOWN, N.C. – Signing day is no longer just for athletes. On Thursday, Aug. 16, Guilford Apprenticeship Partners (GAP) extended 40 high school students and recent graduates apprenticeships during a signing day ceremony at Guilford Technical Community College. The 2018 GAP apprentice class is nearly triple the size of the inaugural class and represents $5 million in scholarships. The program is entering its third year.
"These students are beginning a four-year journey where they will gain hands-on experience working with area businesses while earning an associate degree at GTCC," said Randy Gunter, GTCC's Division Chair of Industrial, Construction and Transportation Technologies. "It's a win-win for both the partner companies and the students."
The GAP initiative formed in 2015 to create a pipeline of skilled workers to meet the needs of local industry. The program bridges the gap between high school graduates and career opportunities in advanced manufacturing.
Machine Specialties Inc. (MSI) in Whitsett is one of the four founding partners for GAP and sponsoring 15 apprentices in the 2018 signing class. "This is the first program that is actually a talent pipeline. It took us stepping out of the box," said Tammy Simmons who oversees marketing and culture at MSI. "The program has been a way of growing our company."
Over the next four years, the apprentices will work as machinists, process technicians, welders and HVAC technicians at over a dozen companies across the Triad. In exchange, the sponsor companies will not only pay for their hours on the job but also their tuition, books and classroom hours at GTCC. The students will complete the program debt-free, having earned an associate's degree and guaranteed a full-time job.
Savannah Trgovicich-Heale is among the 40 apprentices in the 2018 GAP signing class. The Reidsville High School graduate landed an apprenticeship at TE Connectivity where she will work in the tool and die repair shop. "The program caught my attention. I made it through the first elimination, then the second and now I'm here. It's an incredible opportunity," she said.
Her mother, Joanne, echoed her daughter's enthusiasm. "It is an amazing opportunity for these kids to be trained in something that is practical. Savannah is good with her hands and technically oriented. She is going to achieve great things in life."
Garrison Weavil, a student in the inaugural signing class, works as an apprentice at MSI. "The program is fantastic. I love how the classes correspond with what we do at work. After I finish the program, I'll have an associate's degree and a guaranteed job offer. It is way too good of an opportunity to pass up," he said.
Phillip Fuller was a student at High Point Central when he applied for the program at age 17. He now works as a process technician at Greensboro-based Bright Plastics. He will graduate from GTCC with an associate's degree in manufacturing technology and values the non-traditional career pathway. "The program is more stable than going to a four-year college. It helped me out a lot," says Fuller.
GAP's participating companies are now looking to build upon its success. Two new tracks in information technology and logistics will be added this fall. Healthcare, auto and diesel have also been identified as future pathways for the program. The initiative is sponsored by Triad Workforce Solutions Collaborative, the Greensboro Partnership and led by 26 local business partners.
"The model is very effective. As long as you have the right synergy between the county schools, community colleges, industry partners and economic development representatives, you can take this program anywhere in the state," added Simmons.
For more information about the Guilford Apprenticeship Partners program, visit gapnc.org or contact Randy Gunter, Division Chair of Industrial, Construction and Transportation Technologies (ICT) at GTCC, at 336-334-4822, ext. 53128 or drgunter@gtcc.edu.
Guilford Technical Community College is the fourth largest of 58 institutions in the North Carolina Community College System. GTCC serves more than 35,000 students annually from five campuses and a Small Business Center. Learn more at www.gtcc.edu.
Back to All Articles