My GTCC Story: Mike Blanke
Published on: September 10, 2018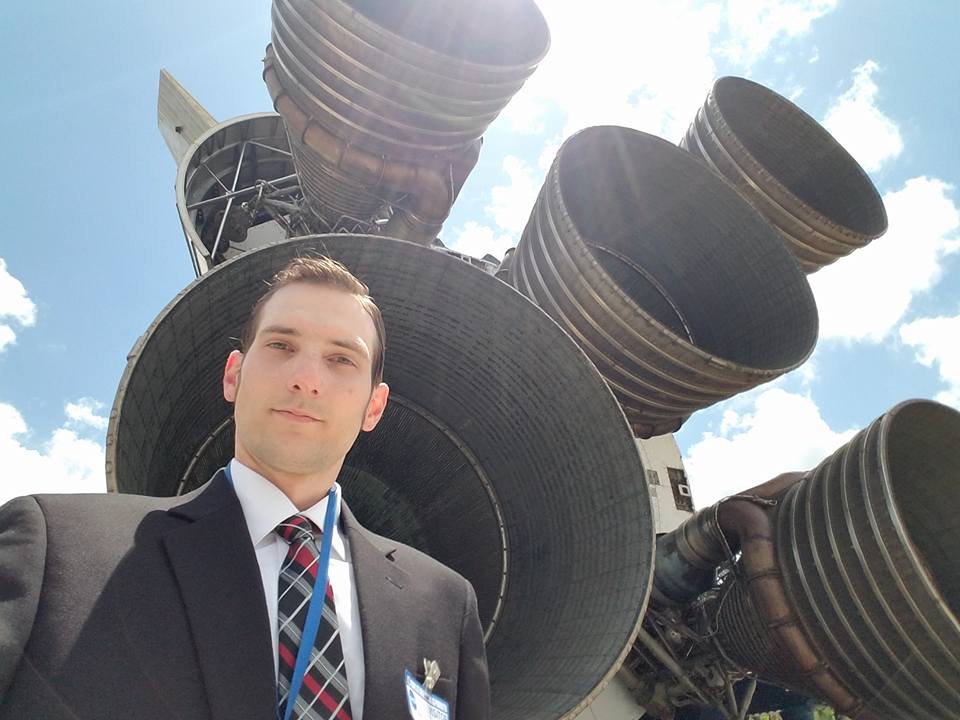 Mike Blanke ('18) is a senior spacecraft technician on NASA's Orion program. He is part of a team building a spacecraft for deep space exploration with the ability to take humans to the moon and eventually, Mars.
GTCC Grad Lands Career That's Out of This World
Mike Blanke was standing in an empty hangar when it happened. The moment he became fascinated with flight. An airshow and 1940s swing dancing lessons brought him to Monroe, North Carolina. He didn't realize it then but that afternoon would have a profound impact on his trajectory.
"We had walked over to the hangar when they started bringing in the P-51 Mustangs. I was able to get really close to them and was blown away at how immaculate the airplanes were and the history behind them," said Blanke.
Seeing those old warbirds sparked Mike's interest. "I figured people make good money working on airplanes. I researched and discovered it required an A&P license. GTCC offered training to earn the certificate, as well as an associate's degree," he said.
Originally from southern Maryland, Blanke craved a fresh start after being discouraged with dead-end jobs and enrolled in GTCC's aviation program. "When I decided to enroll, I had a mindset that I didn't have before. This was my big second chance and failure was not an option," he said. "GTCC jumpstarted my career."
Blanke landed a job at HAECO Americas as a mechanic's helper while he earned his A&P and pursued his associate's degree in Aviation Systems Technology. "Working at HAECO gave me a lot of experience while I was in school," says Blanke. "I was spending 18 hours a day at the airport and completely immersed myself in the experience."
Mike combined his coursework with extracurricular activities that expanded his horizons within the industry. He was a member of the Alpha Eta Rho aviation fraternity and also competed as a member of the G-Flyers, GTCC's competition flight team. He also completed a private pilot theory course and passed his private pilot written exam. He credits the experience in making him a well-rounded technician. "I can see things from both sides as a student pilot and mechanic. It gave me an all-around view of how everything works together," he said. 
When Blanke graduated in May 2018, he started looking to his future and how he could apply his degree. He soon found himself in Mississippi at the John C. Stennis Space Center, a NASA rocket testing facility interviewing with Rolls-Royce.
"I interviewed for a job as an experimental engine test technician," he recalls. It involved working closely with engineers to test new engines for noise levels, fuel efficiency, reliability and other characteristics. "It was a very interesting job and the interview went really well," he said.
Three days later, Mike received a call from another company wanting to interview him. It was Lockheed Martin, the prime contractor for building NASA's Orion Multi-Purpose Crew Vehicle. His interview took place in Florida at NASA's Kennedy Space Center.
"During my interview, I got to tour the Neil Armstrong Operations and Checkout Building, where they are currently assembling the spacecraft. I was surrounded by history and met people whom I would be working with, many of which had come from the shuttle program," he recalls.
The O&C building was originally constructed by NASA to assemble and test spacecraft from the Apollo program. It's where Apollo astronauts Neil Armstrong and Buzz Aldrin prepared for their historic spaceflights. The realization he would be working in that same facility was "out of this world," says Mike. 
 The same day of his interview with Lockheed, Mike received a job offer from Rolls-Royce. It was time to make a decision: take the job at Rolls-Royce or wait for Lockheed to finish interviewing candidates. By the time he returned home, Mike had made his decision.
"Florida was amazing. Visiting Kennedy Space Center and seeing the rockets in person was out of this world. Knowing that I'll be working on something that will travel over 20,000 miles per hour, lifted into space on top of a rocket that will produce over 8 million pounds of thrust, setting new records and making history is what I wanted to be a part of," he added. 
It was a gamble that paid off. Lockheed offered Blanke the job. He joined the Orion Program as a senior spacecraft technician and is part of a team building a spacecraft for deep space exploration with the ability to take humans to the moon and eventually, Mars.
The experience has been euphoric. "It was a huge sigh of relief," he says. "When I was going through the A&P program and working second shift, there were many family gatherings I missed. You want to know that all the time spent and effort invested has been validated in the end, and I finally made it."
Mike says his work on the Orion program encompasses a lot of what he learned at GTCC. From working with structures to mechanical assembly and electronics. Now that he has experience working on spacecraft, he sees value in continuing his education. Blanke was accepted to Embry-Riddle Aeronautical University and is now pursuing a degree in spaceflight operations while working full time. 
"You often meet people who have been successful but you don't always know how they got there," says Mike. "You ask yourself, 'How far can I take this program?' 'How do I get to NASA?' I want to be able to guide people who might be in the same position as me. Stick to the books, study and you can do whatever you want."
Back to All Articles