GTCC By Train: For Jared Ranes, It's Worth the Trip
Published on: October 19, 2018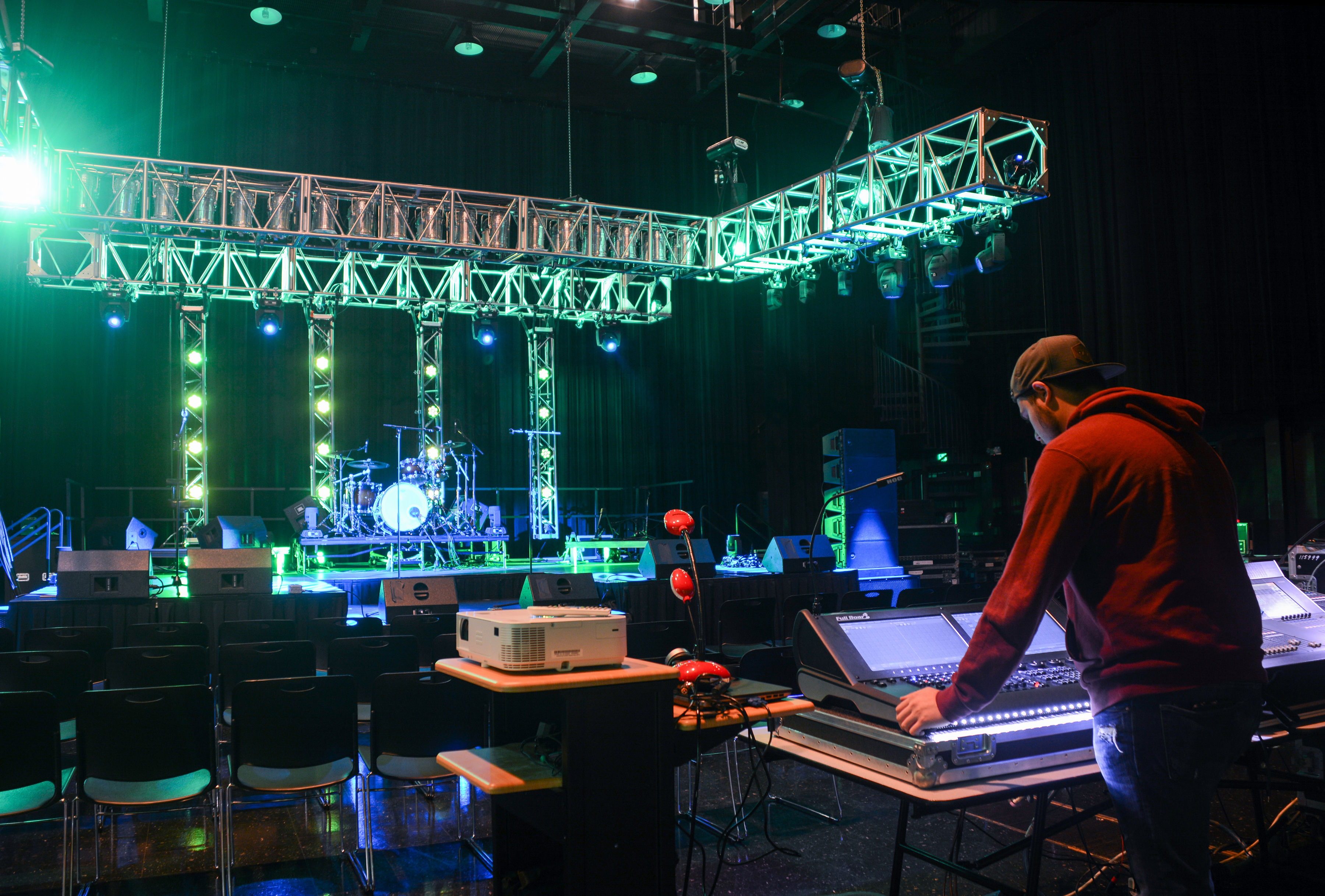 For GTCC Entertainment Technology student Jared Ranes, one of his favorite parts of the program is producing shows and concerts at the Center for Creative and Performing Arts.
Jared Ranes is halfway through his journey at Guilford Technical Community College. He is enrolled in GTCC's Entertainment Technology program and concentrating on concert lighting and sound. It is a passion that Ranes developed at an early age. 
"I've always had a love for music," he says.
His interest turned into a potential career path when the church where he now works needed help running sound during Vacation Bible School. "I caught the bug then and can't get rid of it for the life of me," he added.
When it came time for Ranes to pursue his education, the Entertainment Technology program at GTCC stood out. "It was relatively close to home and wasn't very expensive compared to other sound and lighting programs," he said.
Proximity to home is a relative term. Ranes lives outside of Raleigh in Clayton, North Carolina. With an aging vehicle that lacks reliability, Jared begins his days at 5:30 a.m. by driving to Cary to catch a train. "My truck is pretty old and getting up there in miles," he explains. "The train is just an easier, less stressful and safer option."
Once he disembarks in High Point, he then walks several blocks to GTCC's High Point Campus. The entire trip takes him three hours but Ranes says it is worth it. "The days are long, but I wouldn't trade it for the world," he says. 
Jared says he makes the most of his downtime on the train by sleeping or studying. For the most part, the train has been a reliable form of transportation despite a handful of times when his travel was interrupted. "The littlest of things can stop a train," he says. One time was for powerlines lying across the tracks. It required him to find another way to get to class. "I had to take a bus that day from Burlington to High Point," he added.
When he completes his degree at GTCC, Jared aspires to work in the production industry or tour with a band. He credits GTCC Entertainment Technology InstructorRon Barrans and Division Chair T.J. Johnson for sharing their plethora of knowledge with students.
"He is the kind of student that every teacher dreams about," said Barrans. "Jared is committed to learning everything he can. He is always involved, always working with other students and always asking questions."
For Ranes, one of the perks of study Entertainment Technology at GTCC is helping produce shows and performances for professional musicians and theatrical troupes. The Center for Creative and Performing Arts offers students real-world experience through frequent collaboration with the performing arts community in High Point.
"We produce a concert at least once a month and do all the lighting, sound and rigging of lights. "It's the most fun when we do that at school," said Ranes.
Back to All Articles