Global Scholars: Three GTCC Students Take the Trip of a Lifetime
Published on: October 22, 2018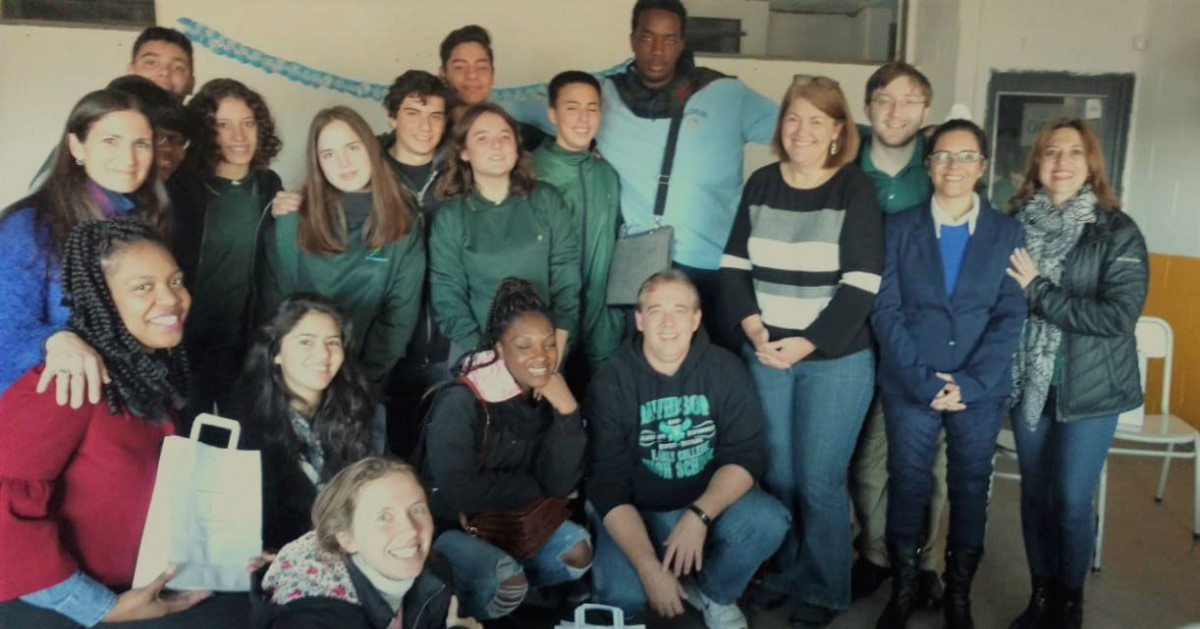 Three GTCC students were among a cohort of area community college students that traveled to Argentina in June. The trip was part of the N.C. Global Scholars program.
Three Guilford Technical Community College students joined others from Davidson Community College and Forsyth Technical Community College on an adventure they won't soon forget. 
Through a partnership with Universidad Nacional de Villa María in Argentina, eight area community college students spent two weeks in Argentina as part of a faculty-led study abroad program. The trip was made possible by the 100,000 Strong in the Americas Innovation Fund grant, which provides students who traditionally lack access to international exchange programs the opportunity to study abroad. Each study abroad student received $800 in sub-grants and scholarships to cover the course cost, passport or other travel expenses.
GTCC students Monica Gonzalez, Millie Turner and Taniesha Williams were among the cohort that traveled to Argentina June 9-24.
Their days were spent immersed in Argentinian culture—dancing the Tango, stopping in the street to pet the lovable stray dogs, sharing communal yerba mates and enjoying traditional asados, Argentina's version of a backyard barbecue. 
For many of the students, this was their first time traveling out of the country and first exposure to a region where English was not the primary language spoken. This meant that the students had the extraordinary opportunity to sharpen their Spanish language skills, learn the history behind the diverse dialects and truly appreciate a different culture by witnessing customs and traditions firsthand.
"It was a trip that influenced me a lot and opened me up to new things – it showed me that the way of life in America isn't the only way," GTCC student Millie Turner explains. "It has pushed me to continue to work toward complete fluency in Spanish, inspired me to try different foods, and exposed me to new music and cultural practices."
This was the first year GTCC students had access to the program, which was made possible through a collaboration between Davidson Community College, Forsyth Technical Community College and GTCC.
"We want to make sure all students have the opportunity to study abroad," says GTCC Instructor Melissa Mayley who serves as the advisor for the college's Global Scholars program.
Global Scholars is an honors program for students interested in learning about and interacting with cultures from around the world. A partnership between GTCC and the World View Program at the University of North Carolina at Chapel Hill, the N.C. Global Scholars of Distinction program helps students to develop global understanding necessary for the 21st-century workforce.
Students take five globally-focused classes as part of their degree program goals. They can also choose to take 30 hours of service learning, or elect to study abroad, as the students who traveled to Argentina this summer did. Upon completion of the program, a "global scholar of distinction" on students' diplomas shows employers and transfer institutions that graduates have an in-depth understanding of global cultural, political and historical information.
 And Global Scholars certainly works hard to bring those opportunities to students. In addition to the programs themselves, Global Scholars helps make students aware of scholarships for their study abroad trips. One student on this year's trip, Taniesha Williams, had her entire program cost covered by scholarships and traveled to Argentina for free.
Williams was awarded complete reimbursement for the trip thanks to the generosity of the Benjamin A. Gilman Scholarship, an award open to all U.S. students doing study abroad that are Pell-grant eligible. Such an award would be monumental for any recipient, but since Williams did not even have a passport before applying, the honor felt even more significant.
"This trip was something that I wanted to do as soon as I found out about it, but I had no idea I would be selected or receive a scholarship," she shares. "It was an extreme honor to be chosen. The fact that they thought enough of me to award this gift to make a difference and bring back information to the community is something that I really appreciate."
And Williams has certainly caught the travel bug. She knows the experiences, sights, courses and friendships made in Argentina have molded her life forever, and encourages others to branch out to make their own trip a reality. Involvement with the Global Scholars program has also impacted her academic pursuits, and given her new perspective.
"I was introduced to the Global Scholars program through this trip and now I have noticed classes in school that I hadn't before, like international relations and political science courses," Williams says. "Learning about different cultures, government and our relations with other countries in the world can be very influential to your degree as well as your personal life."
The second cohort of community college students will travel once again to Argentina in May 2019. Next year's trip is being led by Forsyth Technical Community College with each of the 12 students receiving a $1,000 scholarship toward their trip as part of the 100,000 Strong in Americas grant.
Students who are interested in applying to the program should visit www.gtcc.edu/academics/nc-global-scholars/index.php. For questions, email globalscholars@gtcc.edu.
Back to All Articles