GTCC Model United Nations Club Competes in Conference at Elon University
Published on: October 18, 2018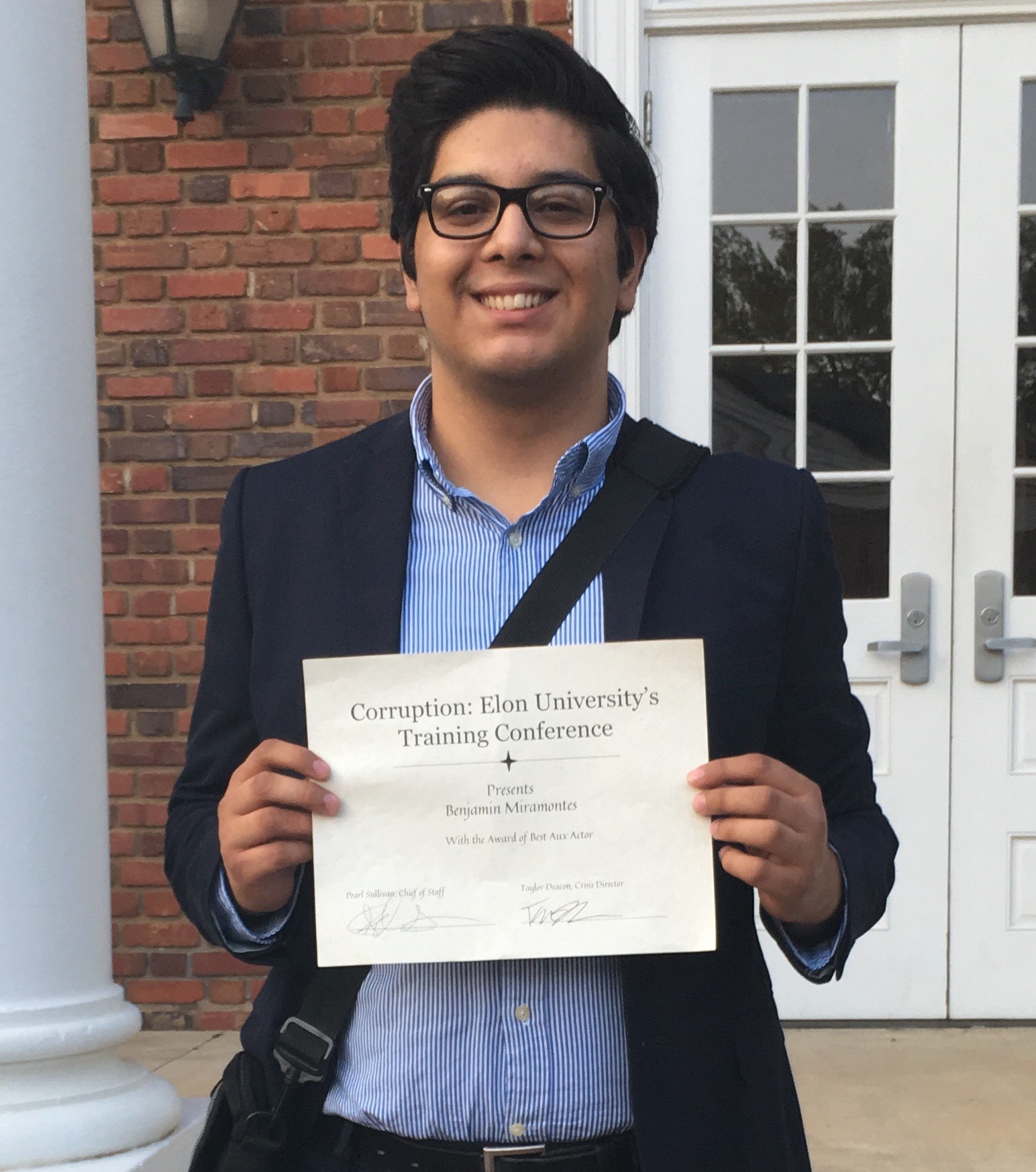 Benjamin Miramontes, a student at Guilford Technical Community College, earned an award for the best aux actor at a recent Model U.N. competition. Miramontes is pursuing an associate degree in engineering at GTCC.
JAMESTOWN, N.C. – Guilford Technical Community College's Model United Nations Club recently competed at Corruption: Elon University's Training Conference held on Sept. 22. GTCC student Benjamin Miramontes earned an award at the conference for his role as an aux actor.
"I'm proud of our club's performance," said Carla Cole, the club's faculty advisor and associate professor of political science at GTCC. "We were the only community college at the conference, which makes winning an award even more meaningful."
The club's members joined more than 100 students from Elon University, the University of North Carolina at Chapel Hill, University of Tennessee and Appalachian State University.
At the conference, students formed committees with participants from the other schools and took on roles as diplomats. They were immersed in crisis situations presented by committee chairs. GTCC club members represented India, United Kingdom, United States, Russia and China and tackled issues ranging from internet freedom to national sovereignty.
Benjamin Miramontes serves as the club's president and was tasked with bringing some of the crises to life as an aux actor. He portrayed a London garbage worker protesting fair wages and took on the role of a Tibetan delegate seeking support for independence.
"I got really into it," he explains. "We had to go to India and give them reasons why they should support Tibetan independence."
Miramontes, who is pursuing an associate degree in engineering at GTCC, says participating in Model U.N. teaches students to "open up and be confident in your ideas." He is also gaining valuable skills in delegation and interpersonal communication – skills that will benefit him and his desire to become an aerospace engineer.
"People skills are important for me to have as an engineer. I'm learning to pass projects along and delegate tasks," he said.
Elon's training conference served as a springboard to future competitions. GTCC's Model U.N. Club competes in two major academic competitions a year, the Southern Regional Model United Nations (SRMUN) conferences in November in Atlanta and Charlotte next spring.
"Most club members are new to the Model U.N., and this conference served as an excellent training opportunity in preparation for SRMUN," added Cole.
GTCC's Model U.N. Club promotes knowledge on international issues and organizations such as the United Nations. At competitions, students step into the shoes of ambassadors from member states to debate current issues on the organization's agenda. While playing their roles, student delegates make speeches, prepare draft resolutions, negotiate with allies and adversaries, resolve conflicts and navigate the Model U.N. conference rules of procedure.
"Conferences are an intense and intimate experience," says Miramontes. "It brings us together as friends and I really enjoy that aspect of Model U.N."
Back to All Articles