GTCC Aviation Open House and Career Fair April 18
Published on: April 15, 2019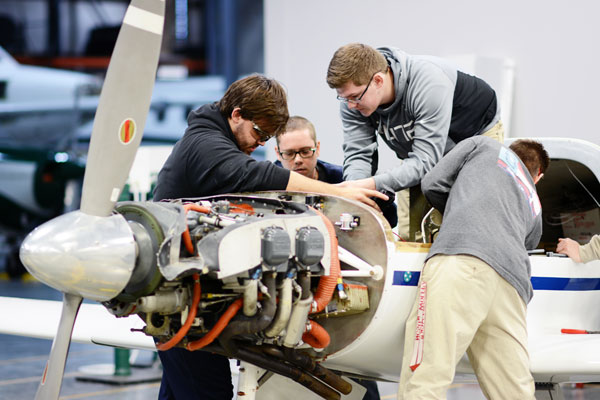 Students enrolled in GTCC's aviation systems technology program work on an aircraft during class.
JAMESTOWN, N.C. — Guilford Technical Community College's aviation campus will host an open house and career fair 2:30 p.m. to 6 p.m. Thursday, April 18. The free event will give attendees an opportunity to network with industry representatives and learn about aviation's most in-demand careers.
GTCC's aviation program offers individuals several educational pathways into the growing aerospace industry. Training is offered in aerostructures manufacturing and repair, aviation electronics technology (avionics), professional piloting, aviation management, aviation systems technology (A&P) and aviation manufacturing quick careers.
Job seekers will have the opportunity to speak with representatives from major employers. More than a dozen organizations representing aviation will participate in the career fair:
Honda Aircraft Company
HAECO
NewGen Aviation
Radwell International
Airline Mtc. Services (AMS)
Signature TECHNICAir
Semonitic Composites
Constant Aviation
DaVinci Aerospace
NC Department of Transportation
Gateway Research Center
Embry Riddle Aeronautical University
West Horse Group
Open House and Career Fair Locations :
T.H. Davis Aviation Center (Open House)
260 N. Regional Road
Greensboro, N.C.
Aviation II (Open House and Career Fair)
819 Radar Road
Greensboro, N.C.
Ceasar Cone II Aviation Building (Open House)
1053 Old Stage Coach Trail
Greensboro, N.C.
For more information about the open house and career fair, contact Lisa Pope at 336-334-4822, ext. 59011 or lmpope@gtcc.edu.
Back to All Articles