GTCC President Dr. Randy Parker Announces His Retirement
Published on: January 16, 2019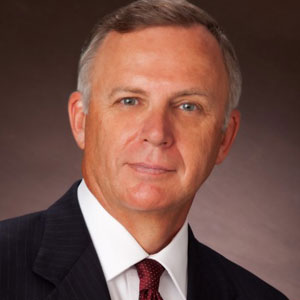 Dr. Randy Parker is the seventh president in GTCC's 60-year history. He will retire July 31, 2019 after four decades of service to the North Carolina Community College System.
JAMESTOWN, N.C.— After four decades of service to the North Carolina Community College System, including the last seven years as president of Guilford Technical Community College, Dr. Randy Parker is retiring. He will step down effective July 31, 2019.
Dr. Parker was chosen to lead GTCC in 2011, the seventh president in the school's 60-year history. During his tenure, GTCC — the third largest of the state's 58 community colleges — has experienced unparalleled growth; for example, significantly enlarging its aviation program, expanding the Larry Gatlin School of Entertainment Technology and GTCC's Center for Performing and Creative Arts, opening three new campuses, and designing and overseeing construction and/or major renovation projects totaling over $100 million. 
Under Dr. Parker's leadership, the college has seen an over 40 percent increase in student completion in earned for-credit credentials, despite experiencing an over 30 percent decline in student enrollment. Programs that have been added to support student completion include a Veterans Resource Center and Titan Link, a wraparound services support program to help students with life issues that arise outside the classroom. The GTCC Foundation assets have also grown over 50 percent from 2011-2018 from approximately $10 million to $15 million. Dr. Parker also established an entrepreneurial entity, GTCC Innovative Resources Corporation (GIRC), to help generate additional revenue for the college through various entrepreneurial activities aligned with the mission of GTCC. 
In 2018 Parker received the Phi Theta Kappa national Shirley B. Gordon Award of Distinction and the 2018 Distinguished College President Award from the Carolina's Region of Phi Theta Kappa Student Honor Society.
"I've had a tremendous career. I've worked for an educational system I believe is crucial to North Carolina's economic future, and for three colleges that provide so much benefit to their communities," Parker said. "The time I've spent at GTCC has been particularly rewarding. I can't say enough about the support I've received from our Board of Trustees, the local community, and our staff and students. I hope I've contributed, in a small way, to GTCC's success."
Susan Alt, chair of GTCC's Board of Trustees, praised Dr. Parker's tenure at the college.
"When the board recruited Randy, we were looking for a forward-thinking leader who would best position GTCC to meet the future needs of students and businesses in the Triad area," she said. "He's done just that and deserves a lot of credit for our progress. Under Randy's guidance, GTCC has continued to grow and prosper. Our graduates are successful, and they are a tremendous asset to our region."
Dr. Parker came to GTCC from Vance-Granville Community College in Henderson, North Carolina, where he served as president from 2004-2011. Earlier in his career, he spent more than 25 years at Lenoir Community College in Kinston, North Carolina, where he advanced from general engineering instructor to vice president of instruction and student services.
Dr. Parker holds master's and Ed.D. degrees from NC State University, where he was the 2012 recipient of the I.E. Ready Distinguished Graduate Award for Leadership Excellence in Adult and Community College Education and the 2017 Distinguished Alumni Award from NCSU College of Education's Higher Education Faculty and Graduate Student Association.
He also has played an active role in the Triad region, where he has served as chairman of the Business Advisory Council for the Guilford County Economic Development Alliance, and the 2015 High Point United Way campaign chair and as a member of the executive boards of Business High Point, NC Campus Compact and the High Point United Way.
Dr. Parker serves as a member of many local organizations. They include the Greensboro Economic Development Alliance; the High Point Economic Development Commission; Business High Point; the Advisory Committee for Biotechnology in the Piedmont Triad; the Greensboro and High Point Chambers of Commerce; the High Point University Board of Visitors; Board of Directors for Union Square Campus Inc., the High Point United Way Board, and the Greensboro Rotary Club.
Dr. Parker said retirement will afford him more time to relax and enjoy life with his wife, Lou Ann, and family. "I've been truly blessed to work for over 40 years in a career I've loved," he added. "But it's time to move on, and I'm looking forward to the next phase of my life."
Back to All Articles