GTCC Culinary Program Instructor Receives National Honor
Published on: March 10, 2021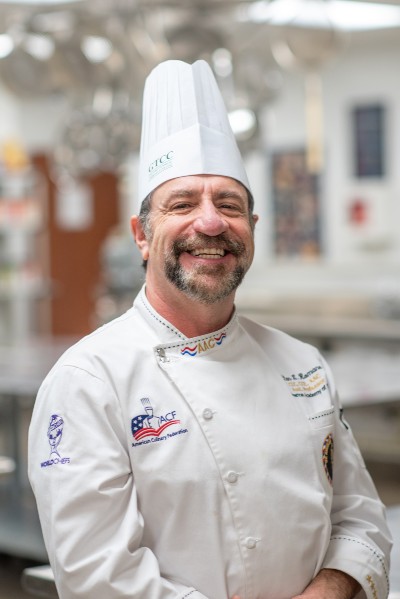 Al Romano, culinary technology instructor at GTCC and recently named winner of the AAC Sharing Culinary Traditions Award.
JAMESTOWN, N.C. (March 10, 2021) – The American Academy of Chefs (AAC) has selected a member of Guilford Technical Community College's culinary technology program to receive its highest honor.
Al Romano, a culinary technology instructor at GTCC for more than 20 years, has been named the winner of the AAC Sharing Culinary Traditions Award, given annually to an academy fellow who has demonstrated unwavering dedication to the education of future culinarians.
"To get into the academy itself is an honor and to win this is really big," said Romano, who is one of less than 1,000 chefs in the country who are AAC members. "I asked them how my name even came up for this and they said, 'we looked at all the people and what they do (to help others) and felt you were the most deserving.' To me, it's always been about giving back. I try to carry on our culinary traditions."
Giving back has been the mantra of Romano's culinary career. Whether it was as the head of food services of a hospital or executive chef at a country club or cooking at a landmark New York City restaurant or teaching in the GTCC culinary program, he's always found a way to help others.
"I've worked over 20 years in the Chef and Child Program working with children doing basic, simple recipes. We show them how to eat healthy, eat better. We show them it's fun to cook, different things to cook," said Romano. "A lot of kids have never tried anything like that. A lot of the parents have poor eating habits and it just comes down the line."
Romano says during his tenure at GTCC he has worked hard to be innovative and help students remained engaged. The result has been rewarding for students and teachers.
That innovative attitude was in the spotlight a year ago when GTCC was forced to move all instruction online because of COVID-19. Romano was forced to figure a way to teach culinary classes remotely, classes that normally involved intensive amounts of hands-on work. He showed them how to improvise, adapt and overcome obstacles in the kitchen and every day life.    
Putting his years of TV experience giving cooking tips to work, Romano created videos for his students to demonstrate the same techniques they would have learned and practiced in class. For his efforts, Romano was presented GTCC's 2020 Teaching Innovation Award by the Board of Trustees.
"I enjoy what I do. I try to mentor young students. Every year I get a different group of students. Most are so passionate," said Romano, a native New Yorker, born in the Bronx. "I tell them my story. I wasn't a rich kid, I didn't have a lot of the cool stuff the other kids had…. but I had a great childhood! I tell them it's not about what you don't have but what you do have."
Romano will receive the Sharing Culinary Traditions Award at the AAC National Convention in Orlando later this year.
About Guilford Technical Community College: Guilford Technical Community College is the third largest of 58 institutions in the North Carolina Community College System. GTCC serves nearly 35,000 students annually from five campuses and a Small Business Center. Learn more at www.gtcc.edu.
###
Back to All Articles