Career and College Promise Program at GTCC helping high school senior get an early jump into the real world
Published on: January 18, 2022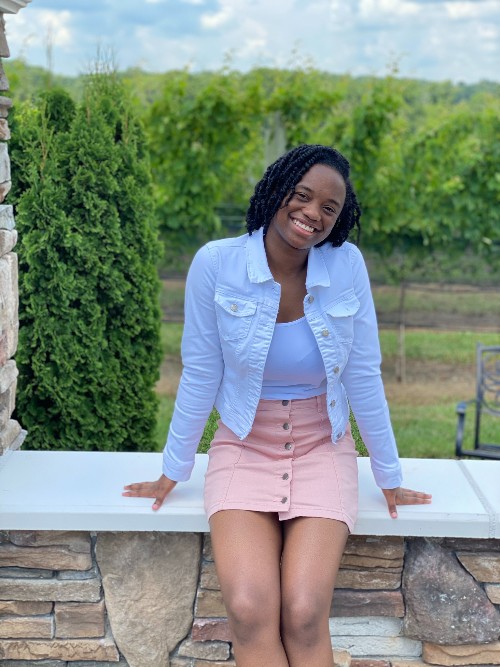 Career and College Promise Program at GTCC has 17-year-old high school student Selena Collins way ahead of the game.
Selena Collins wants to "jump into the real world" as soon as possible. At the rate she is going, the 17-year-old Greensboro resident will be making that leap much sooner than later.
Collins is a senior at Western Guilford High School. That's just part of the story, though. The rest of the story? She's winding down her first semester at Guilford Technical Community College and by the time she graduates high school in the spring, she will have enough college credits to enroll in a four-year school as a second semester sophomore.
Collins was able to fast-track her educations because of the Career and College Promise Program at GTCC. The Career and College Promise Program offers North Carolina high school students the opportunity to earn college credits at a community college. It is tuition-free for high school juniors and seniors with a cumulative unweighted GPA of 2.8 or higher. The college credits earned are transferable to all UNC System institutions and many of North Carolina's independent colleges and universities.
"They had talked about this program at my school my junior year, but I was concentrating on AP classes and waited until this year to do it," said Collins, who has an unweighted GPA of 3.9 at Western Guilford.
"At my high school they really make a push for community colleges and this program. They encouraged me to do it and my mom encouraged me. I want to get all the college credits I can."
Collins is taking two classes at Western Guilford this semester and three classes … psychology, ethics and at GTCC. She is attending classes in person at Western Guilford and is taking the GTCC courses online.
Collins said she "thinks there is some give and take" with online classes, but "overall, I don't think I'm missing out on too much."
"We do forums and quizzes online. It's a good flow of ideas online, a lot of different perspectives," Collins said of her online learning experience with GTCC.
Collins has always been uber-active in high school extracurricular activities, and that hasn't slowed with the addition of college classes.
During this school year she has recruited and trained 20 new peer tutors for the Hornet Tutors, an organization Collins founded two years ago. She remains an active tutor with the organization, tutoring two fifth graders five hours a week this semester.
She is also a member of Western Guilford's indoor and outdoor track teams where she specializes in the long jump and triple jump, but also competes in the 200 and 400-meter runs and the 4x400 relay team.
As busy as she is these days, Collins keeps an eye on the future as she tries to narrow down her choices of four-year institutions.
"I'm applying to colleges right now; I just have to figure out where to go. My options are pretty wide open right now," said Collins, who hopes to major in international relations with a minor in education policies.
"I'm pretty happy right now. I think in the long run, there are a lot of major advantages to the Career and College Promise Program. And I think I can jump into the real world a lot quicker this way."
For more information on the Career and College Program, visit gtcc.edu/ccp.
Back to All Articles