Longleaf Commitment Grant has provided perfect path for 19-year-old Daniela Campbell free of charge
Published on: January 13, 2022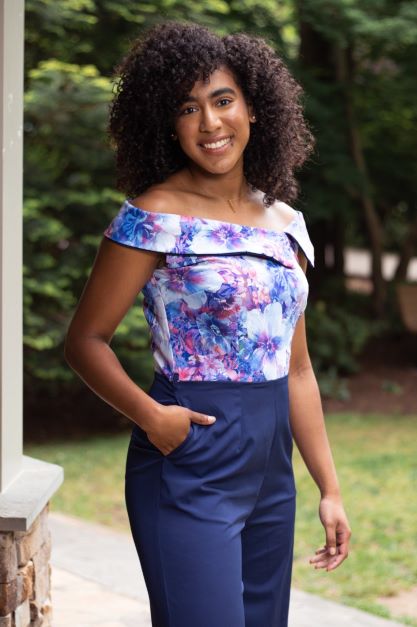 Thanks to the Longleaf Commitment Grant, Daniela Campbell is able to kick start her dream without any debt.
Guilford Technical Community College proved to be the perfect place for Daniela Campbell to honor her Nicaraguan heritage and pave a path toward a booming career field.
And she was able to embark on her educational journey without any cost, thanks to the Longleaf Commitment Grant.
Nineteen-year-old Campbell is a Los Angeles native who landed in High Point as a young child after a cross-country move for her father's career.
Campbell was home-schooled, first through a co-op and then solely by her mom. It was from her home-schooling peers that she heard of GTCC and was intrigued by the college's offerings and advantages. Not only did she quickly become a proponent of community colleges in general and GTCC in particular, she began taking advantage of programs as soon as possible.
Perhaps the biggest advantage she embraced was the Longleaf Grant, which she says has been "a blessing, a giant gift."
The grant, in partnership with the North Carolina Community College System and the State Education Assistance Authority, guarantees fulltime eligible students $700 to $2,800 per year for two years to cover tuition and fees.
"I don't know many friends who are able to go to a four-year, or even get their associates for free," said Campbell. "To be able to have that opportunity to not only learn more about myself, but also just learn in general, it's something I think everyone should take advantage of if they can."
As a high school junior, she enrolled in GTCC's Career and College Promise, a program that offers North Carolina high school students an opportunity to earn college credits at a community college. Students enrolled can earn college credits to all UNC System institutions and many independent colleges and universities.
"A lot of my home school friends were a part of the Career and College Promise. I was aware of the program because of that, and it was something I wanted to do," said Campbell.
"Obviously you are getting college credits early and you save a lot of money, but it also gives you more time to think about what you want to do."
Campbell said she also felt like she was more prepared for the college classroom when she enrolled at GTCC last fall because the two years in the Career and College Promise program.
While she hasn't totally decided on a major once she moves on to a four-year institution, Campbell is leaning toward Spanish.
"I'm half Hispanic. My mom is from Nicaragua, so part of it (her major) is an identity thing. I'm not bilingual and part of my life goal is to be bilingual," said Campbell. "Part of it is the love for the culture. And the Latin American culture is expected to grow in the United States, so that is a work field that is going to grow."
Campbell said one of the great advantages of GTCC and all community colleges is there is no pressure to select a major up front in the college pathway, that you can take your time to make sure the best decision is made.
"I love community college because I don't have to commit early. I'm personally hesitant to jump into a four-year school now. I don't see myself committing to something 100 percent at this point. Community college gives me that time and space to grow," said Campbell, who unabashedly admits she "is a natural student who loves to learn stuff."
Campbell says she understands the value of GTCC and all community colleges.
"It (community college) has been good for me," said Campbell. The professors have been so amazing. I think it is amazing to be able to communicate with them and so exciting to learn from them. They have seen so much and know so much. That's such a bonus."
For more information on the Longleaf Commitment grant, visit gtcc.edu/whygtcc/index.php.
Back to All Articles