Newman, Siddique named winners of GTCC's first MLK Jr. service award
Published on: January 13, 2022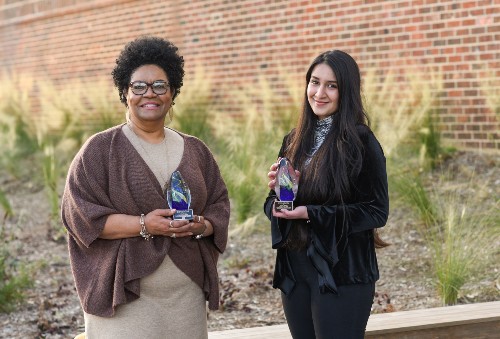 GTCC's MLK Jr. Service Award winners Sybil Newman, director of GTCC's Titan Link and Malaika Siddique, a GTCC's Career and College Promise program student.
JAMESTOWN, N.C. (Jan. 13, 2022) – A 17-year-old dual enrollment student and a longtime staff member have been named the winners of Guilford Technical Community College's MLK Jr. Service Award.
The award, being presented for the first time this year, honors members of the GTCC community who demonstrate a commitment to Martin Luther King Jr.'s ideals and help further the college's commitment to diversity. A GTCC employee and a GTCC student will receive the award each year.
Malaika Siddique, Pakistan native enrolled in GTCC's Career and College Promise program, and Sybil Newman, director of GTCC's Titan Link, have been honored with this year's MLK Jr. Service Award.
Siddique formed a nonprofit a year ago to help the poverty-stricken in her home country. The nonprofit funds monthly distribution of needed items in Pakistan, like warm clothes during the cold winter and water supplies during the hot summers.
She has volunteered at Helping Hand for Relief and Development to box clothes and other necessities for the need in third-world countries. She has also taught a social-emotional learning class to first graders and is a blood donor ambassador at the American Red Cross.
"This award is extremely valuable to me as it validates all the effort I've put toward community service and it motivates me to continue doing so" said Siddique. "By being seen as a worthy recipient by the deciding committee, I'm assured that my hard work toward my community does not go unnoticed. This award is also the first one where I have accounted for my nonprofit, so winning this means my first step toward more progress and success."
Newman manages the college's Titan Link program, a program that helps not only GTCC students, but also faculty and staff during difficult times. The program's help comes in many forms, from financial to childcare to transportation and much more.
Her group shined brightly throughout the pandemic, but especially early in the crisis when they were able to secure more than 300 laptops for those students who didn't have a home computer when GTCC's classes went remote.
"This award is a blessing. The idea of being of service is about who Dr. King was. That's what I do," said Newman. "I'm the conduit between students and their separation from school. I don't separate myself from them because it could be me. I don't think the homeless couldn't be me because there by the grace of God go I."
About Guilford Technical Community College: Guilford Technical Community College is the fourth largest of 58 institutions in the North Carolina Community College System. GTCC serves more than 27,000 students annually from five campuses and a Small Business Center. For more information, visit gtcc.edu, Facebook, Twitter, Instagram and LinkedIn.
Back to All Articles