Unexpected call helps man gain fresh perspective on career
Published on: February 14, 2022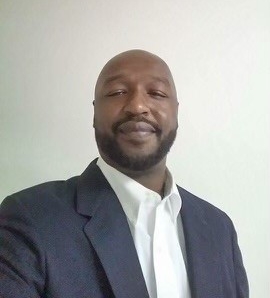 GTCC's Food Nutrition Services Employment and Training program helped Shelton Smith take his first step toward turning around his employment and career options.
A phone call that he says "came out of the blue" helped turn Shelton Smith's work life around and has him poised to embark on an entirely different career path.
The call came from Angie Carter, the education navigator for the Food Nutrition Services Employment and Training (FNS E&T) program at Guilford Technical Community College. The purpose of the program is to help underserved community members increase education and employment opportunities.
"I'm very thankful that she reached out. It was out of the blue. I wasn't expecting it. I didn't know the program existed until she made contact," said Smith, who had worked with Carter when he had taken a class at GTCC a couple of years earlier. "I fit into the parameters they were looking for, and it has done so much for me and will do more in the future."
Smith said when he was contacted by Carter, he, "was either underemployed or overqualified for the job I had." That assessment stuck with Smith, who was working at a retail store.
"With her saying I was underemployed and overqualified, that was something I had been feeling for myself. Just in being in the job I had, I wasn't as happy as I wanted to be knowing my qualifications and my work ethic. It just wasn't as fulfilling as I would have liked."
After mulling the idea, the 44-year-old Smith got back in touch with Carter.
"I was asking like what would I qualify for, what programs did they offer? I wanted to find out what the program was about," said Smith, a single father of two.
Smith learned the breadth of the FNS E&T program with services including career assessment, job search support, resume-building assistance, basic needs assessment, basic skills training, connection to workforce and continuing education training, and sponsorship or scholarship opportunities.
Qualifying is simple: residency in Guilford County, eligibility for SNAP/EBT benefits, and being between 16 and 59 years old.
Enrollment at GTCC is not required for participation.
In November, Smith took advantage of the FNS E&T program to take an intense, two-day forklift operator class at GTCC. He hopes to enroll in GTCC's truck driver training program in the near future.
"With the delivery and transport involved in driving trucks, I thought it would be good to take the forklift operator class. Those two sort of go hand-in-hand because sometimes you have to load your own truck," said Smith, who received full funding for the forklift operator class.
Since the forklift operator class ended in late November, Smith has applied for several jobs. He's had call backs from a couple of those applications and feels like he will soon nail down a job. That job possibility and his new outlook on his value as a worker would not have been possible without GTCC and its diligent staff.
"This has all been amazing to me. It all came out of the blue. That is exactly how it happened," Smith said. "Ms. Carter went above and beyond in working with me, and the instructor for the fork lift course did the same thing."
To learn more about the Food Nutrition Services Employment and Training program visit, gtcc.edu/FNSETProgram or contact Carter at dycarter@gtcc.edu or 336-334-4822, ext. 55009.
Back to All Articles