Teen's head for business leads him to GTCC's Career and College Promise Program
Published on: February 8, 2022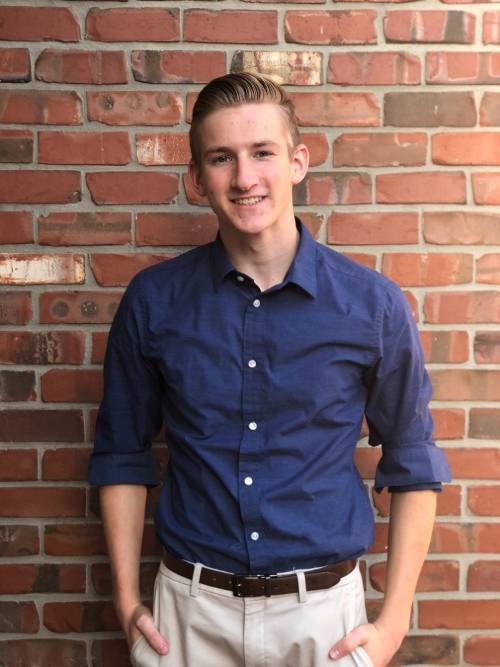 The GTCC Career and College Promise Program is exactly what James Yacoubian needs to keep his entrepreneurial dreams going.
James Yacoubian is an entrepreneur. He recently began a pressure washing business that will soon be registered with the state of North Carolina. He also has a wood-working business and there are more business ideas stewing in his mind.
And he's just 17 years old.
"I got into wood working last winter and started selling bird houses. I decided then I liked the financial side of it," Yacoubian said. "My dad gave me a quick overview of business through a (company's) quarterly report. I started YouTubing businesses every night, just exploring."
Yacoubian's entrepreneurial mindset also figured the best educational path forward for him would be the Career and College Promise Program at Guilford Technical Community College.
The program offers North Carolina high school students the opportunity to earn college credits at a community college. It is tuition-free for high school juniors and seniors with a cumulative unweighted GPA of 2.8 or higher. Students in the program earn college credit transferable to all UNC System institutions and many of North Carolina's independent colleges and universities.
Though still officially a high school senior in a home school co-op in Greensboro, all of Yacoubian's classes this semester are on GTCC's Cameron Campus.
"The biggest difference would be with the co-op I knew everybody. I went there twice a week. Everybody was there the same days. I knew everyone," Yacoubian said of the move to college. "At GTCC, everyone is different. It seems much bigger because of that.
"With the co-op, I went Tuesdays and Thursdays for almost a full day and did the homework at home. It was university style, so it wasn't that difficult of a transition. I'm still going on my own schedule."
Yacoubian was a competitive rower with Greensboro Crew for three years but gave it up a year ago to concentrate on school and entrepreneurship. "I still love rowing," he said. "But now I'm focusing on business."
That business, Superlative Pressure Washing, is in the early stages, but like all successful entrepreneurs, Yacoubian has a plan to grow it.
"Right now, I'm focusing on gutters to help build a client base. Then I'll move on to decks and driveways. It's a process," said Yacoubian, adding he's always exploring new opportunities.
Yacoubian isn't sure yet of college plans past GTCC, but he knows it will involve entrepreneurship and business analytics. "I love working with numbers and will explore that more through college."
Through his early ventures as an entrepreneur, Yacoubian has learned some valuable lessons, but none bigger than his philosophy on time and work.
"My time is my own and the quality of how I use my time is more than the quantity," he said. "I love that quality over quantity can help me live my life more freely. That sort of goes to entrepreneurship ... the quality of work trumps quantity ... it's made for effort and initiative."
Which is a perfect description of the Career and College Promise Program: It pays huge bonuses for those who have initiative and put in extra effort.
For more information on the College Career and Prep program, visit gtcc.edu/ccp.
Back to All Articles