Art club members collaborate to create mosaic worthy of prime spot on campus
Published on: March 21, 2022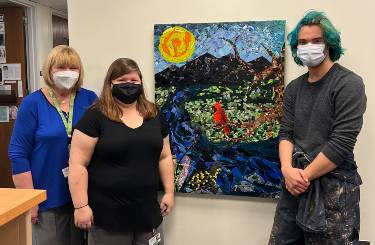 Deborah Walsh, Patricia Drummond and Will Decareaux stand in front of the donated piece.
Put a pile of tiny, colorful mosaic tiles in front of a group of art students and challenge them to make something beautiful, and, well, that's what you're bound to get.
That was the formula behind the stunning mosaic hanging outside of Deborah Walsh's office in GTCC's James William Hall. The dean of business, performing and creative arts is displaying the result of the vision, creativity, and hard work of the Guilford Technical Community College art club.
Early last semester, Assistant Professor Patricia Drummond, one of the art club advisors, showed the club a pile of hundreds of tiny colorful mosaic tiles someone had gifted the department. She challenged them to design and create a mosaic worthy to hang in a place of importance and visibility on GTCC's campus.
"We proposed some ideas to the students at the beginning of the semester. I proposed the mosaic," Drummond said. "We had a lot of mosaic tiles someone had given us. It was a project they could do with those items and then with the finished piece, they could choose where it would go and get more artwork in the public's eye."
The result was a 4-by-3-foot mosaic paying tribute to the state of North Carolina with over 1,000 tiles meticulously placed. There's a cardinal, the state bird. There's an eastern box turtle, the official reptile of the state. Prominently placed in the background are the Blue Ridge Mountains. And running through the middle is a beautiful mountain stream.
"We were talking about hanging it somewhere when it was finished, so we wanted it to be something related to GTCC and our location," William Decareaux, the art club president, said about the origins of the design. "We didn't want a crazy theme people couldn't relate to. This is something we could all relate to, a North Carolina design with a cardinal and a box turtle."
A half-dozen or so art club members worked on the piece, which took almost four months to complete. Classroom time was not used on the project, with students using free time, often working late into evenings.
"The overall piece is great. It was a great experience for the students to work collaboratively, to work in that group," Drummond said. "It was done completely out of class. The students were very vested in getting it done."
In the early stages of the project, Decareaux said the art club members weren't sure where the finished piece would hang.
"We were deciding if it came out good enough, we'd get it out in front of the college. If it wasn't good enough, we'd hang it in one of the stairwells in the art department," Decareaux said.
When the piece was finished, there was no doubt it needed to go in a high-visibility area.
"I gave the students two options. I said it could be hung in our building, but I also proposed we could look for other locations on campus," Drummond said. "I knew our dean, Deborah Walsh, would be very receptive (to having it hung outside her office). She is very supportive of the art department. The students decided they liked the idea of it going over by the dean's office. We proposed it to her, she loved the idea, and now it hangs over there."
From beginning to end, the cooperative project is one Decareaux says he will cherish.
"It feels really nice. I'm really happy that something so many people put time and effort in is receiving this kind of attention," he said. "It's really nice to do."
Back to All Articles