Gallardo uses GAP program, Vann York Collision apprenticeship to learn, build a career based on his passion
Published on: March 15, 2022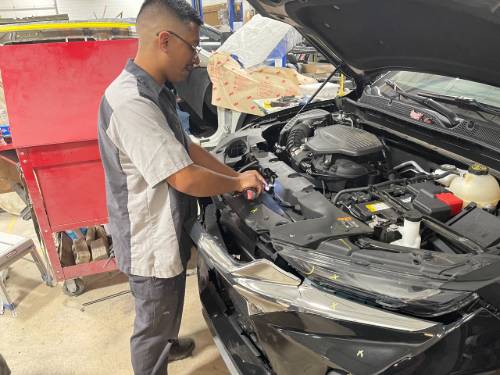 As a GTCC and GAP apprentice, Tim Gallardo is getting paid while he's learning, building a career in body work.
Tim Gallardo has always wanted to work on cars, turning crumpled fenders and battered paint jobs back into something beautiful.
When he was a senior in high school, he discovered Guilford Technical Community College and the Guilford Apprenticeship Partners (GAP). The program offered Gallardo a way to get auto body training on the job and in the classroom. And he would be paid for his efforts. He was immediately all in.
"I had planned on going to community college, and I was probably going to do automotive. But then I saw GAP auto body had been added to the (GTCC) program," Gallardo, a 2020 graduate of Western Guilford High School, said.
"Body work always interested me more than the mechanics. I liked the process of bringing in a car that was wrecked and sending it back out like new."
The GAP program allows high school students to start in promising careers while they earn their associates degree at GTCC. Guilford Apprenticeship Partners is a consortium of employers in a variety of industries, including Advanced Manufacturing, HVAC, Automotive, Information Technology, Supply Chain Management, and Pharmacy Technology. 
"Vann York Auto teams our best technicians with the apprentices. The results are outstanding," Rick Hayworth, director of service and parts at Vann York Auto, said. "The apprentices are driven to master the skills necessary to keep pace with an ever-changing automotive industry. The apprenticeship program is mutually beneficial for our skillful apprentices and Vann York Auto."  
Gallardo is in his third year of the four-year GAP program and his final at GTCC. He will graduate in the spring with an Associate in Applied Science in Collision Repair & Refinishing Technology and when his final year of apprenticeship is complete, he will be awarded a journeyman's certificate.
"You get a head start with this program. That's a big advantage," Gallardo said. "A lot of companies say experience is required and when you walk out with a journeyman's certificate, you have the experience, and you don't have any college debt."
The demand for skilled auto body workers also led to his decision.
"There's a big shortage of skilled labor and that definitely came into play for me, that I would come out with a skill," Gallardo said. "I've always been set on something like this. I never was into the idea of a four-year college."
While several new-car dealerships in the Piedmont Triad offer mechanical apprenticeships, Vann York Paint and Collision Center in High Point is the only that has one in auto body work. That was also key to Gallardo because he had been working in the Vann York body shop part time in high school.
Gallardo says his time is split about 50-50 between Vann York and GTCC.
"Classroom and work are really balanced, and everyone works with you," said Gallardo, adding his classes include a mix of general education courses and major-specific courses.
Gallardo does well in the classroom, but it is the auto body shop where he is at home.
"It's almost like sculpting. It does have an art to it. You are sculpting Bondo® and shaping metal," Gallardo said of the body work he does at Vann York.
Gallardo is entrusted to do most anything in the shop, from bringing a "car in, tearing it down and writing the estimate. I've been given the opportunity to work on cars by myself."
While some of his friends were skeptical when he first enrolled in the GAP program at GTCC, Gallardo said he has never looked back. It is, he says, an experience he would recommend to anyone considering the program.
"I did get some pushback from some friends, but I had a lot of support, too," Gallardo said of his apprenticeship decision. "I'd tell someone to take a chance on this, that it's a win-win situation. If it's something you're interested in, go for it."
To learn more about the Guilford Apprenticeship Program, visit gapnc.org.
Back to All Articles