GTCC's culinary arts program receives highest ranking from the American Culinary Federation Education Foundation
Published on: March 22, 2022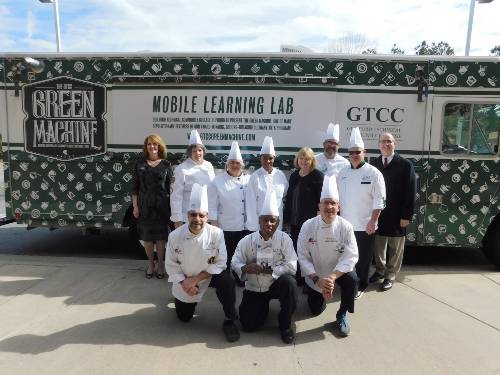 (left to right back row) Beth Pitonzo, Ph.D., Linda Beitz, Michele Prairie, Danielle Anderson, Deborah Walsh, Jason Nichols, Thomas Lantz, Anthony Clarke, Ph.D. (left to right front row) Al Romano, LJ Rush, and Keith Gardiner
JAMESTOWN, N.C. (March 22, 2022) – Guilford Technical Community College's culinary arts program recently received the American Culinary Federation Education Foundation's (ACFEF) highest ranking while its newest culinary program, the Baking and Pastry Arts diploma, was accredited by the organization.
The ACFEF deemed the GTCC Culinary Arts program as "Exemplary," the organization's premier ranking. GTCC is one of just four community colleges in North Carolina to receive exemplary status.
"What makes our programs so strong are the chefs who lead them," said Deborah Walsh, dean of business, creative and performing arts at GTCC. "The GTCC chefs are the best in the business. They are recognized experts who have been honored with national awards and often share their skills on television. But what makes them so special is the joy they find in sharing that passion with their students and inspiring those students to follow their culinary dreams."
To qualify as an ACFEF Exemplary Program, a program must be confirmed in full compliance with ACFEF standards on two consecutive team reports, which covers a period of 14 years. Those programs receive a grant of accreditation and the exemplary status for seven years.
The team that evaluated the program participated in an on-site visit and determined through a checklist and comparison of the program to the nationally recognized ACFEF standards that the program had substantially met the entire and required eight standards areas: eligibility, mission and goals, organization and administration, faculty and staff, curriculum, facilities, student services, and assessment.
The ACFEF also honored GTCC's newest culinary programs, the Baking and Pastry Arts Diploma programs, with accreditation.
The GTCC Culinary Arts program offers an Associate in Applied Science in culinary arts in addition to diplomas in baking and pastry arts, mobile catering and food truck management and a culinary arts certificate. For more information on the GTCC Culinary Arts program, visit https://www.gtcc.edu/academics/academic-programs/programs/business-programs/culinary-arts.php.
About Guilford Technical Community College: Guilford Technical Community College is the fourth largest of 58 institutions in the North Carolina Community College System. GTCC serves more than 27,000 students annually from five campuses and a Small Business Center. For more information, visit gtcc.edu, Facebook, Twitter, Instagram and LinkedIn.
Back to All Articles