National Security Agency validates GTCC's Cyber Crime Technology program
Published on: March 29, 2022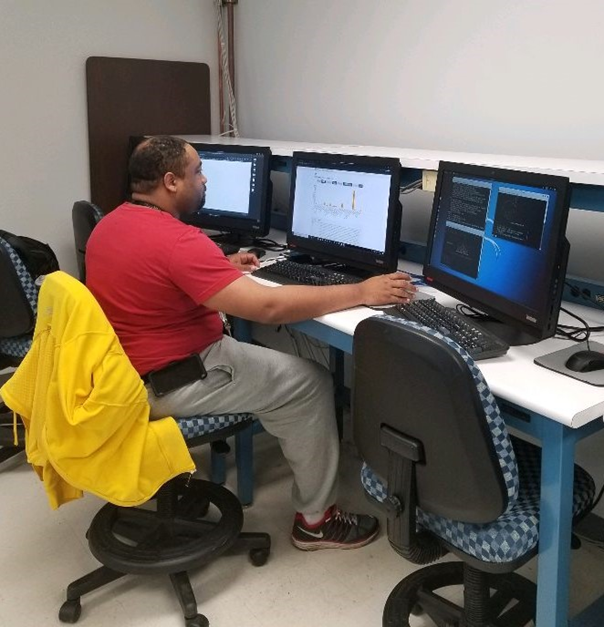 GTCC student Lamont Roberts works on a dark web project.
JAMESTOWN, N.C. (March 29, 2022) – The National Security Agency's (NSA) National Centers of Academic Excellence have validated Guilford Technical Community College's Cyber Crime Technology program of study and designated the college as a National Center of Academic Excellence in Cyber Defense.
Karen Leuschner, National CAE Program Manager for the NSA, said in the letter of validation for the Cyber Crime Technology course that "your ability to meet the increasing demands of the program validation will serve the nation well in contributing to the protection of the National Information Infrastructure."
The validation means that GTCC students will receive a level of cyber education reflective of the standard required to work for companies, organizations, and government agencies. The curriculum validation will run through the 2026 academic year.
"GTCC's designation as a National Center of Academic Excellence in Cyber Defense highlights the college's proficiency as reliable and trustworthy source of education in cybersecurity," said Anthony Clarke, Ph.D., president of GTCC. "In today's world it is paramount that we are leaders in cybersecurity education. This recognition by the NSA puts an exclamation point on the integrity and value of our cybersecurity program."
The NSA and Department of Homeland Security (DHS) developed the Centers of Academic Excellence in Cyber Defense program two decades ago to provide a method for community colleges to pursue the Program of Study Validation. To receive the designation, colleges must submit all curriculum and course assignments for review by a team from the NSA and DHS, who ensure that coursework aligns with the objectives and outcomes defined as job requirements of the agencies.
Cyber Crime Technology (the Associate in Applied Science and certificate) have been under GTCC's Computer Technologies since the 2010-2011 academic year. More information about GTCC's Cyber Crime Technology Center can be found at: Cyber Crime Technology Center.
About Guilford Technical Community College: Guilford Technical Community College is the fourth largest of 58 institutions in the North Carolina Community College System. GTCC serves more than 27,000 students annually from five campuses and a Small Business Center. For more information, visit gtcc.edu, Facebook, Twitter, Instagram and LinkedIn.
Back to All Articles