Veteran leader of college nursing programs named director of nursing at Guilford Technical Community College
Published on: March 9, 2022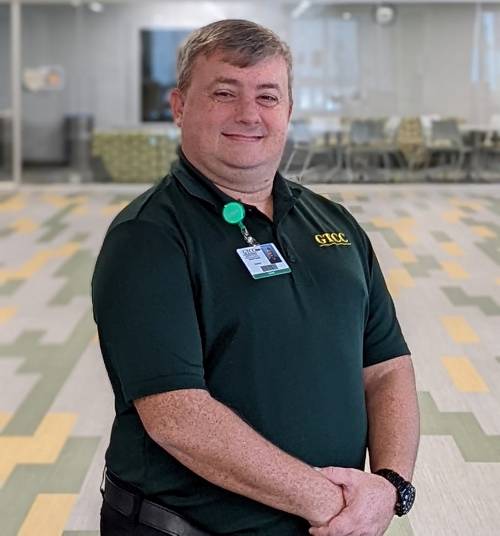 GTCC welcomes newly appointed director of nursing, David Tanner.
JAMESTOWN, N.C. (March 9, 2022) – David Tanner, who has directed college nursing programs for almost a decade, has been named the director of nursing at Guilford Technical Community College.
As GTCC's director of nursing, Tanner will provide vision and leadership to support and enhance the mission of the nursing programs and be responsible for program development and management, continuous review, planning, budget administration, general effectiveness of programs, accreditation, and provide supervision and mentoring to part-time faculty.
"I am excited to become a part of the GTCC family and bring the nursing program to its full potential by training the new members of the most caring profession," Tanner said.
Most recently Tanner was the assistant director of nursing for the associate degree in nursing and licensed practical nursing programs at Hondros College of Nursing based in Westerville, Ohio. In that position he managed 25 faculty members and 500 students. Prior to that he was the course lead for pediatric nursing at Hondros College of Nursing, including lecture, lab and clinical.
"David is a fantastic addition to GTCC and our nursing program," Dean of Health Sciences Paulette Woods-Ramsey said. "He brings so much experience and expertise to the program and will enhance the education of our nursing students and the entire nursing program at GTCC. We are excited to have him on our team."
Tanner holds a master's in nursing from Kaplan University and a bachelor's in nursing from Kent State University.
About Guilford Technical Community College: Guilford Technical Community College is the fourth largest of 58 institutions in the North Carolina Community College System. GTCC serves more than 27,000 students annually from five campuses and a Small Business Center. For more information, visit gtcc.edu, Facebook, Twitter, Instagram, LinkedIn.
Back to All Articles