GTCC culinary professor inducted into world's two oldest cooking societies
Published on: April 7, 2022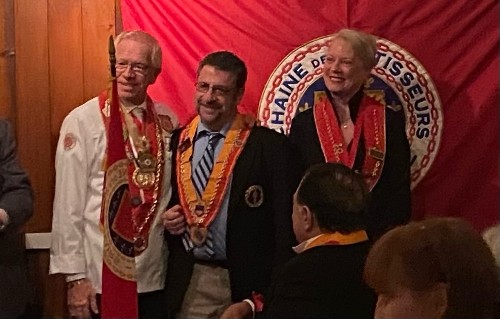 Chefs Raymond Pitz and Al Romano, and Muriel Uttal
JAMESTOWN, N.C. (April 7, 2022) – Al Romano, a chef-instructor and professor of culinary arts and hospitality management at Guilford Technical Community College for more than 20 years, was recently inducted into two of the oldest chefs and cooking societies in the world, le Chaine des Rotisseurs and L'Academie de Brillat-Savarin.
The Chaine des Rotisseurs is an international association of gastronomy established in more than 80 countries, bringing together enthusiasts who share the same values of quality, fine dining, the encouragement of culinary arts and the pleasures of the table. With nearly 25,000 members, the association brings together amateurs and professionals, whether they are hoteliers, restaurateurs, executive chefs or sommeliers, in the appreciation of fine cuisine.
The L'Academie de Brillat-Savarin is an organization that encourages a technical and detailed understanding of foods, their preparation and effect on the senses and to organize and promote excellence among the society's professionals involved in the food industry. The Academy is composed of members of the society who are either involved in preparation of foods or its production, food critics, educators, writers, and scientists as well as gastronomes and connoisseurs (amateurs) dedicated to promoting education and enjoyment of fine food.
About Guilford Technical Community College: Guilford Technical Community College is the fourth largest of 58 institutions in the North Carolina Community College System. GTCC serves more than 27,000 students annually from five campuses and a Small Business Center. For more information, visit gtcc.edu, Facebook, Twitter, Instagram and LinkedIn.
Back to All Articles