GTCC welding student changes course to chase dream of career in English, writing
Published on: April 5, 2022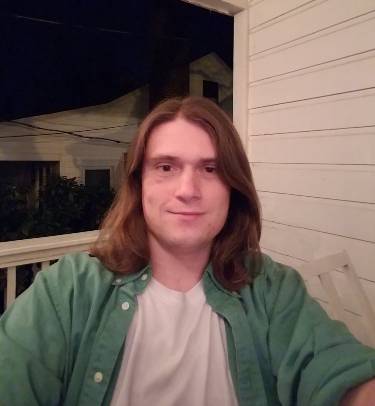 Former welding student Victor Kempton is chasing his passion for English and writing.
It took a mid-course epiphany, but Victor Kempton is finally chasing the career he's had a passion for, has dreamed of … forever, almost.
Kempton is in his second semester at Guilford Technical Community College, but his first as an English major. He made a quick 180-degree turn in his first semester, left his welding tools behind, and followed his passion.
"It was a bit weird. I was still just working general labor jobs and kept hearing get a trade, get a trade. I wanted to go to school, but I was torn between studying English or getting a trade. I always loved writing, and I was interested in welding. I debated between the two and picked welding," recalled the 29-year-old Kempton, a California transplant who moved to Greensboro to escape eternal commutes and sky-rocketing costs that out-paced his earning ability.
In California, Kempton said, he was working constantly and still barely making enough to make ends meet. "Some days I was working 12 hours a day, sometimes six days a week and barely breaking even."
Three years ago, in a stroke of good fortune, a friend was moving to Greensboro to be closer to family and invited Kempton along to make a fresh start. Kempton never looked back.
"I don't have to drive 45 minutes to go to work here. It's a lot more affordable. People are friendlier. I love the weather; I'm done with 105 degrees. It's a lot more peaceful. It feels more like home here than out there," Kempton said.
Kempton enrolled in GTCC's welding program last fall. In retrospect, he says, it probably wasn't the best time to be making life-changing decisions.
"I was depressed. I was estranged from my family and had met with them for the first time in a long time. It all weirded me out, and it was almost like I woke up in a welding program," Kempton said.
"I was quitting smoking. I was really depressed and that brought everything to the surface. I thought 'why am I here?' Welding is cool, but it's not what I want to do. I love English. I've been writing for 12 years."
Kempton approached English professor Megan Simpson about his quandary.
"I basically spilled my guts to her," Kempton said. "I told her "I'm doing this welding stuff, and I want to write. Just writing emails and memos in her class was exciting. Everything was pointing toward it. I talked to her about it, and she shook my hand and said, 'Welcome to English.'"
Kempton immediately dropped his welding classes but continued Simpson's English class, already part of his welding general education curriculum.
"It eased me back into school again," Kempton said. He's taking a full course load this semester. "I hadn't been in school for 10 years. I'm feeling more and more like this is the right path.
"I'm not the most career-focused person. More than anything I'm here for the journey right now. It's fun. I like being in school. I like the stress of getting work done on time. It's perfect."
Kempton isn't quite sure about his endgame. He knows he will continue the pursuit of an English degree, first an associate degree at GTCC and then a bachelor's degree from a four-year school. But there remain many questions after that.
"Teaching is the probable result of this, but we'll have to see where it takes me," he said. "I'll probably go to UNCG for a bachelor's in English, and I'm very curious about their creative writing program."
He says a master's in creative writing may be in his future, but for now he's still weighing a lot of options. "I'm going to take the shotgun approach for now and take a lot of different classes and see what develops."
For more information on GTCC's Associate in Arts (AA) – English degree, visit https://www.gtcc.edu/academics/academic-programs/programs/liberal-arts-humanities/associate-in-arts-english.php.
Back to All Articles