Passion for technology steers former GTCC student to full-time position at college
Published on: April 19, 2022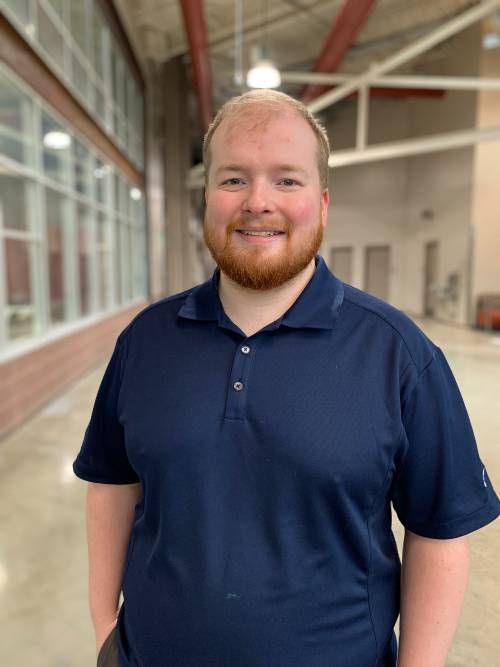 Passion for technology steers Patrick Love to GTCC classroom and then behind the scenes as an employee.
It wasn't Patrick Love's plan to be a data analyst, but he discovered technology was his passion. And passion most often trumps plans.
When Love graduated from Jordan-Mathews High School in Siler City, N.C., he headed off to pursue a bachelor's degree in biochemistry with a goal of becoming a pharmacist.
"I liked that, but I started developing an interest in technology, so I took some time off to teach myself some basic things. When I could go back school and afford it myself, I went to GTCC," Love recalls.
Three years later, he's still at GTCC, but his days as a student at the college are over. In an interesting intersection of education and career, Love moved from a student to a data analyst for the college.
"It feels weird that I'm coming from a different perspective, from being a student to now being the person who looks at students records and helps them," said Love, who is presently pursuing a bachelor's degree from North Carolina A&T while working full time.
"If I don't do what I'm supposed to do, I'm harming the college and the student can't do what they need to do. It gives me an all new responsibility."
Before enrolling at GTCC, Love spent a couple of years immersed in YouTube videos learning the basics of his craft to be better prepared for entry into GTCC. And he says he learned a great deal from those online videos and built a workable knowledge of technology. There was a downside to those days of isolated learning, though.
"I had to relearn the structured environment," Love said of his return to the classroom. "There were a lot of things expected to be done in a certain way. I was going from having the internet at my fingertips when I have a question to having someone with five times your knowledge giving you the answer."
He adapted quickly though, attacking his classes with solid results. When it came time for a work study job, he was asked to help the college's technology services team.
"I started working between the application team and service delivery team, helping (with) whatever they needed," Love said. "I worked to make changes on the website, update the calendar, anything they needed me to do."
Love kept impressing. By the time graduation rolled around, he was offered a part-time job in the department.
"At the end of my work study, when I was getting ready to graduate, they said 'hey, you are good at what you do, you've done a good job, will you come to work part time.' I looked at other jobs, but I was already comfortable here and they were offering me something I would have a shot at full time. I liked that."
It wasn't long before he was promoted to full time, completing the journey from college to career.
"To be honest, I didn't realize GTCC needed anyone. I wanted to get a degree, then jumped on work study because a lot of jobs won't hire you without experience. My goal was to have experience when I came out."
And when Love walks the stage at North Carolina A&T for his bachelor's degree, don't expect him to make a job change.
"I'm certainly not going to discount GTCC after I graduate. My hope is to stay and either get a title change or some sort of recognition."
Back to All Articles