Guilford Technical Community College team earns 10 top-10 finishes in SkillsUSA national competition
Published on: July 14, 2022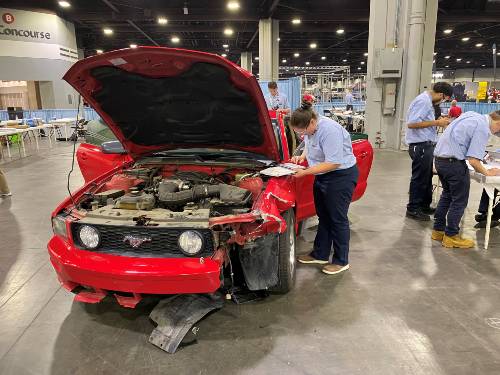 GTCC student Lauren Lewis evaluates a car for the collision damage appraisal category.
JAMESTOWN, N.C. (July 12, 2022) – Competitors from Guilford Technical Community College claimed a gold medal, two silver medals and a bronze medal in the recent National SkillsUSA competition in Atlanta.
Ten GTCC students placed in the top-10 finishers in competitive categories during the national competition.
Darla Smith and Jennifer Montalvo combined for first place in the Emergency Medical Technician (EMT) team event. Rose Chafee finished second in the first aid/CPR competition and Jesus Gonzalez-Pineda earned a second-place finish in the residential and commercial appliance technology.
Kara Camp captured a bronze medal for GTCC, finishing third in dental assisting.
"The National SkillsUSA Conference in Atlanta was all we hoped it would be and more," said Jeff Faircloth, department chair, transportation, and the SkillsUSA chapter advisor at GTCC. "With the majority of students finishing in the top 10 and four medals in competitions, once again the students and faculty of GTCC have shown they can compete with the best of the best."
SkillsUSA is a national nonprofit organization serving teachers, middle school, high school and college students who are preparing for careers in trade, technical and skilled service occupations. Through its local, state and national competitions, students demonstrate occupational and leadership skills.
Following is a list of GTCC's top finishers in the SkillsUSA national competition.
First-Place Finishers
Darla Smith, EMT
Jennifer Montalvo, EMT
Second-Place Finishers
Rose Chafee, first aid/CPR
Jesus Gonzalez-Pineda, major appliance repair
Third-Place Finisher
Karen Camp, dental assisting
Fifth-Place Finisher
Lauren Lewis, collision damage appraisal
Sixth-Place Finishers
Xavier Hill, criminal justice
Garrett Chauncee, culinary arts
Seventh-Place Finisher
Madison Gore, restaurant services
Ninth-Place Finisher
10th-Place Finisher
Elizabeth Silva-Colon, commercial baking
Back to All Articles