Determination and help from Guilford Technical Community College give 42-year-old Gillens a new outlook on life
Published on: August 23, 2022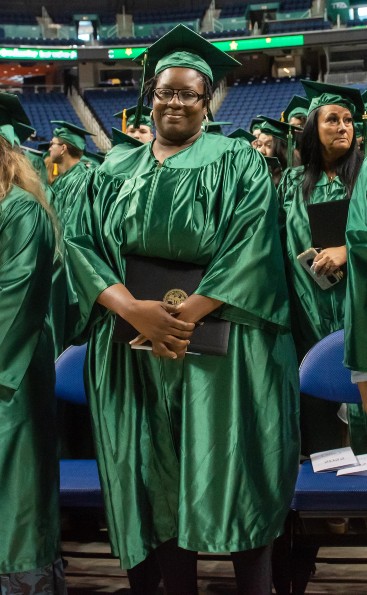 Danielle Gillens at the 2022 graduation for her certificate in GTCC's quick career aviation program.
Danielle Gillens smiles a lot these days. You don't even have to see her to know. Her voice gives it away.
She's 42, trying to get a business off the ground while still searching for what the future holds. But a birthday promise made to herself a year ago helped her slam the door on the past, and with the help of Guilford Technical Community College, the future looks much brighter for Gillens.
"Last July my son came over to my house and said, 'You have 30 days to your birthday. What do you want?' I said my GED," recalled Gillens, who quit high school when she was 16. "That was on July 17. On July 18 I was riding down the road listening to K-LOVE (radio station) and they were talking about GTCC. It was like a sign. I made a call and went in and took the test and got into the GED program."
That fortuitous turn of events ignited quite the year for Gillens, whose son is a graduate student at Elon University and a member of the Phoenix basketball team. She sailed through the adult education program with just a bump or two, and then tackled the aviation manufacturing quick careers program and successfully completed it.
But to really understand the importance of Gillens' recent successes, some backstory is needed. She summed up her start in life succinctly in a sentence: "I came up in an area where drugs were big, and I became involved and wound up in jail facing more than 30 years."
She was 16 at the time, staring at the bleakest of futures. Fortunately, fate put her in front of a compassionate judge.
"The judge called a recess right before my sentencing. She took a 45-minute recess, then called me to the front and said, 'Something won't let me sentence you to 30 years.' The judge gave me back my life. I ended up doing eight months of work release."
Gillens was spared prison time, but life remained a struggle. She was living in a homeless shelter in Orlando in 2007 when her mother passed away, sending her into a tailspin of depression.
"I went into a depression. It left a burning in my heart. I wanted my mom to be around," said Gillens. "Then one day it came to me: My mom is still part of my life. I realized it was time to become the woman that was always there. I was afraid, but now at 42, I'm going back and putting the pieces back together I had as a kid and had never gotten to finish."
Gillens enrolled in the GTCC GED program August 18, 2021, and completed the program January 10 of this year.
"It was a goal (GED completion) I had set for myself. I had struggled with reading and writing; it was an obstacle in my life. I was being told I would never be able to make more than $7.25 an hour."
"To be able to speak on a panel, that was something I was definitely passionate about. I had always had my fears, I had struggled with confidence. But when you are passionate about something, the words seem to flow. I found something inside of me … I thought this is something I'm supposed to be doing."
It was at about that time Gillens had a chance meeting with Tony Turner in the college's aviation program who urged her to enroll in GTCC's quick career aviation program. On the day she took her final GED test she began aviation classes.
"I put in the work. I had to decrease my earnings to increase my earnings. I had to back off work so I could go to school," Gillens explained, saying when she began the aviation program, she had to shelve her work on starting a cleaning business.
Again, the hard work paid off. She successfully completed the aviation program on May 27 and followed up by passing the Honda Jet plate assessment test a few days later.
Days after completing the assessment test, she discovered Honda Jet had halted hiring for the immediate future. Gillens is confidently undeterred.
"I don't think that door is completely closed," she said of her future in the aviation industry.
Gillens' journey was so impressive, she was asked to serve on a student panel for a REACH (Racial Equity for Adult Credentials in Higher Education) Collaborative conference which GTCC hosted in May. She shared her journey with approximately 150 community college employees from around the state.
After that impassioned panel discussion, Claire Ricci, the dean of GTCC's adult education program, urged Gillens to enroll in a degree program at the college. Gillens took that advice. With the help of Ricci and others at GTCC, she is working toward a job as a certified peer support specialist. She has a final week-long class to take in early August to earn certification, and then she will be eligible for employment in that field.
Once she gets settled into her new job, she plans on enrolling in a degree program at GTCC.
And when she talks about her new adventures and helping others, you know she is smiling.
"I have a passion to work with those who are struggling. I want to help others the way I've been helped."
Back to All Articles