GTCC offers high school equivalency classes at High Point Detention Center with grant from Bank of America
Published on: August 25, 2022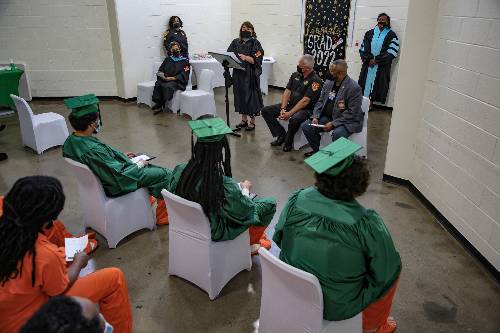 Three High Point Detention Center inmates participate in the August graduation ceremony for completing their high school equivalency diploma. Photo courtesy of Guilford County Sheriff's office, Mike Leonard.
With the aid of a $20,000 grant from the Bank of America, Guilford Technical Community College is offering inmates at the High Point Detention Center an opportunity to be better prepared for life after release.
The college began the high school equivalency program at the detention center about two years ago, and though the project was slowed by the pandemic, a second class of students just graduated with their high school equivalency diploma.
"There is definitely a lot of interest in the program. To have that credential when released gives them a better chance at better employment and at life," said Claire Ricci, dean of adult education at GTCC.
Ricci says anyone who signs up for the class must take an entry test to gauge educational needs before beginning classes. 
"Students who come into the program are given a reading and math test. That's a way for us to see how close they are to passing and what they need to work on. We are seeing a lot of students with high testing scores," Ricci said.
The classes are free to students, but there is an $80 fee to take the final test. That's where the Bank of America grant comes in, covering that cost for all students.
"Bank of America has been a great partner with GTCC, not only with this grant but helping some low-income students on the High Point campus pay for the equivalency tests and they have paid for some instructional costs," Ricci said.
GTCC also is offering a human resources development program at the detention center, working with inmates to prepare for a job search upon release and life in general on the outside world.
GTCC instructors teach the classes in the detention center after receiving special training. The testing staff also visits the detention center to administer the tests.
Building on the success of the high school equivalency program, the college began commercial driver's license (CDL) learner's permit exam prep classes at the detention center in August. Once announced, the class quickly reached its limit of 20 students.
"Our goal is to have people, once they are released, to be able to go right into GTCC's truck driving program," said Ricci, adding that the detention center is paying the $90 course registration fee for these students. "There are a lot of job opportunities in this field, and it is a field where a former offender can be accepted."
Back to All Articles