HVAC vs. animatronics: Student wrestles with career decision
Published on: August 2, 2022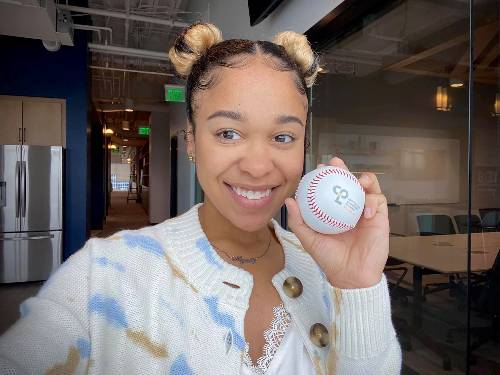 GTCC student Niyah Webb at her internship with CPL.
Niyah Webb fell in love with animatronics on a trip to Disney several years ago. It was a career-defining moment.
As an engineering student at Guilford Technical Community College, she was taking the first steps toward a future in animatronics. But then she discovered heating, ventilation and air conditioning, or HVAC, and the science of making it more energy efficient. Now, she may be facing a major education and career decision.
Webb was accepted into the North Carolina Clean Energy Youth Apprenticeship Program in 2021 and joined CPL, an architectural firm in Greensboro, for the summer. Until then she knew almost nothing about HVAC. She learned a lot about it that summer. And she liked what she learned, staying on with CPL in a part-time position when the summer program ended.
Part of the idea behind the North Carolina Clean Energy Youth Apprenticeship Program is to inspire young people to consider working in the state's growing clean-energy economy.
And while Webb hasn't completely ditched her career hopes in animatronics, her time with CPL has certainly made her take notice of energy conservation HVAC in the design of new buildings.
"This internship didn't involve animatronics, but I still was looking forward to it because it put me in the general field of engineering and would give me real-life experience in a team-oriented office," Webb said. "It was also a great opportunity to make money over the summer while expanding my career possibilities through learning."
Webb explained animatronics is a multidisciplinary field which creates robotic machines that imitate life. The discipline also includes the creation of robots that perform surgical procedures in the biomedical field.
Although architecture and HVAC were totally new to her, she proved to be a quick study thanks to her SolidWorks classes at GTCC, which taught a software similar to that used at CPL.
"According to them, I learned very quickly. On day one, I was already creating a building with the software, called Revit. It wasn't an assigned project. It was an idea that my friend had for his dream house," said Webb, who lives in Archdale and graduated from Apex High School.
The work quickly became more complex, and Webb was like a sponge, absorbing every piece of information possible.
"Anytime I would finish a checkpoint, I was supposed to report back. I'd show them what I had, and they would show me what I needed to do to fix it and we would go from there," Webb said. "I definitely was asking a lot of questions. I tried to pace them so I wouldn't disrupt their work so much."
Webb said she was fortunate to spend one-on-one time with mentors within CPL, an invaluable experience.
"My boss, Tom Phoenix, and I would have classroom sessions and talk about the energy efficiency part of construction: how it is achieved, how it can be improved upon, what we can do with technology to better it. We talked about HVAC concepts in general … pressures and duct measurements.
"My first project was modeling an existing building that we had no measurements for … I had to look at pictures and count bricks. It was challenging but it turned out accurate."
When her allotted program time with CPL ended in the late summer of 2021, she was asked to stay on in a part-time role. She has continued to grow and gain more responsibility since then.
"Recently, I've been working with the HVAC manager to design systems and perform duct sizing for places like N.C. State and Starbucks. It's very exciting to go out to these places after renovation or construction and see the things we have done."
When classes resume at GTCC in late summer, Webb will leave CPL to concentrate on class work. In May of 2023, she will finish GTCC with an associate degree in both engineering and science. Webb is enrolled in GTCC's transfer program with North Carolina A&T State University and will be enrolling in the engineering program there in the fall of 2024.
By then, she will have to decide on a career path. It may not be easy.
"I still haven't had a chance to dive into animatronics yet, so I'm going to keep architecture and HVAC in mind as I come closer to choosing my engineering field just in case," Webb said.
Regardless of the decision, the impact of HVAC architecture and its value to energy conservation will never leave her.
"Before the internship, I didn't have a clue about how to implement energy conservation in construction," Webb said. "I now understand the importance of HVAC to our quality of life. It's not only for comfort in our spaces, but also for the energy conservation for our Earth. That's my biggest take away. There's such a complexity to it all."
Back to All Articles