Organizational and planning skills make Schwartz perfect fit for Guilford Technical Community College
Published on: August 9, 2022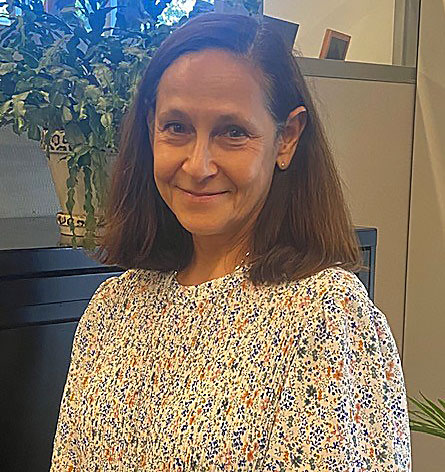 Amy Schwartz is the executive administrative assistant for operations and facilities at GTCC.
In February 2020 Amy Schwartz began her current job as the executive administrative assistant for operations and facilities at Guilford Technical Community College. Little did she know what a wild ride her first year on the job would be.
A month earlier, in mid-January, the first case of COVID-19 was reported in the United States. Not long after that, GTCC needed to establish a COVID hotline for students, faculty, and staff to stay apprised of the quickly changing landscape.
Schwartz was picked to provide administrative support for the project and it proved to be the perfect choice. Schwartz and her team had the hotline up and running quickly, she kept it up and running, and it remains in operation. She handles the bulk of the calls herself, provides guidance to those who call in, monitors voicemail messages and returns calls, and keeps track of the data surrounding the calls.
"At times when we had particularly heavy call volume, it was difficult to balance my other responsibilities, but responding to callers was my primary focus. When we were doing call backs, and sometimes we'd have 20 a day, that was my priority. Sometimes I'd make a list of what I was not able to get done and if I had concerns, I'd chat with my supervisor, Mitchell Johnson, to make sure I was prioritizing things properly."
Schwartz was the right person at the right time in the right place to make such a daunting responsibility run efficiently. To those around her, that wasn't a revelation. She's a planner and an organizer, traits that are key in crisis situations.
"It certainly took organizational skills and problem-solving skills, skills that I use every day," Schwartz said.
Even though Schwartz's arrival at GTCC came later in life, the connection to the college goes way back into her childhood. Born in Mississippi, Schwartz and her family moved to Guilford County when she was six, settling near the Jamestown Campus.
"I remember it was Guilford Technical Institute then,' said Schwartz, who went to Millis Road Elementary School and Ragsdale High School, both in Jamestown.
She attended Guilford College and took a few personal enrichment classes at GTCC several years ago. But it took a while for her to officially join the GTCC team.
Schwartz spent the bulk of her career working in the financial world but made the decision almost a decade ago to make a change so she could remain close to her parents. That's when the GTCC connection began. She took medical billing and coding classes at the college to prepare for a second career, and while attending GTCC, took a part-time job as an administrative assistant in student services.
She enjoyed the job, made the decision to search for a similar full-time job with the college and in 2017 was hired as the administrative assistant in emergency services. Two years later she made the move to her current position.
"I would never have imagined that I would enjoy (this job) as much as I do," Schwartz said. "It's much more than answering the phone. It's being there so I can prepare everything from travel reports, organize (job) interviews, and in our division, interviewing new hires and also designers for construction projects.
"This job requires one to be a jack-of-all-trades and that's what makes it so interesting."
And it's what make Schwartz the perfect fit.
Back to All Articles