Student ambassadors lend vital support to GTCC, gain valuable skills
Published on: September 22, 2022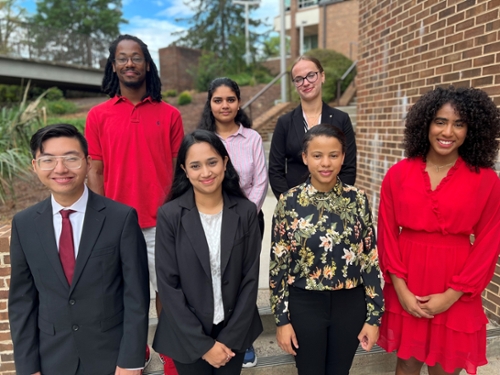 The 2022-2023 GTCC Student Ambassadors are, top (left to right) Trevon Stapler, Krishna Shah, and Bethany Pace; front (left to right) Khoa Nguyen, Jeshika Lamsal, Barney Dos Santos, and Daniela Campbell.
If you've visited Guilford Technical Community College's campuses, you've probably encountered a member of the Student Ambassador Program. On campus tours, at convocations, or at large GTCC events, a student ambassador may have helped you.
Student ambassadors are a core group of GTCC students who provide vital support to the college and many of its programs. It's a job that requires work, dedication, and loads of GTCC knowledge, but it's a sought-after position that students hold in high esteem.
"This is a great opportunity for the college to highlight the student population and what we are doing for members of the community," said Berri Cross, the director of student life, who has overseen the program since she joined the college in 1998. "I don't know if you can put a number on the value of this program."
There are normally about 14 ambassadors in the program, split between first-year and returning students. But the number of students Cross and the selection committee have to winnow down to reach that total is fairly large.
To be eligible, students must earn 12 semester hours, have a 2.5 GPA and be in good standing with the school. Ambassadors are paid for up to 15 hours of work a month and receive $500 per semester from the GTCC Foundation to put toward tuition, fees, and books.
"We normally have somewhere around 700 people eligible," Cross said.
Those eligible are sent an email notifying them of their eligibility and inviting them to an information session. Cross said about 70 or 80 students will respond and attend the information session. That number is trimmed in half again to roughly 40 when students are asked to fill out an application and write an essay. About 20 are called in for an interview and between eight and 12 are selected to be ambassadors.
"I've worked dozens of events. I have been a greeter at events. I worked the (GTCC) Foundation golf tournament where I was able to talk to so many people," said Madison Gore, a hospitality student in her second year as an ambassador. "I feel it's been very important for how I've grown. I've never been shy, but I feel like in this role, I've learned to be a leader. I've probably met thousands of people. I'm hearing different stories, people on different paths, interconnecting with people."
There also are very tangible results from the ambassadorships.
"One of our students spoke at a golf tournament and said she wanted an internship in aviation engineering. Someone from HAECO stood up and said, 'You have an internship,' " Cross said.
There is one requirement to become a GTCC ambassador that rises above all others: They must be passionate about the college.
"We don't choose people who don't think GTCC is a great place — that's why you are chosen. Many will say in their interviews that they are already an ambassador," Cross said.
"Ten out of 10 students in this program love the school, and they want to tell about their experiences."
To learn more about the GTCC Student Ambassador program, visit the student ambassador's page.
Back to All Articles