Alum looks back fondly at GTCC's impact on his career
Published on: October 11, 2022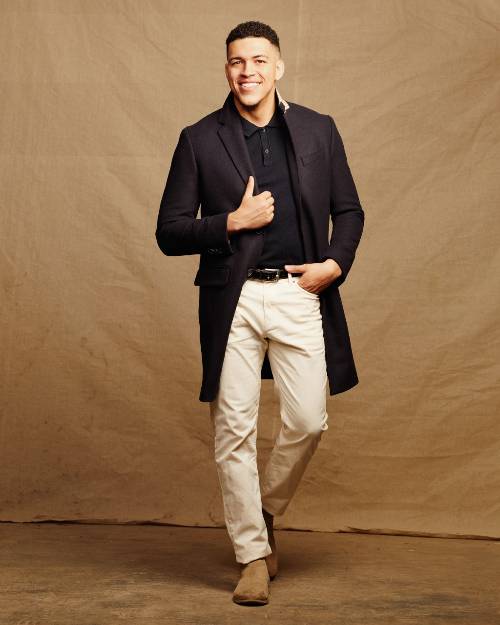 GTCC alum E.J. Coleman works as a recreational therapist and a model.
After E.J. Coleman graduated from Southern Guilford High School he couldn't get out of town and into a four-year college quick enough.
"I just wanted to hang out with my buddy. We wanted to go to college to wrestle together like we did throughout high school," Coleman said.
Coleman hoped his plan would be successful when they got to Campbell University, but it was quickly dashed.
"Within two weeks I kind of dropped it. There's a big difference between high school and collegiate sports," he said. "I wasn't dedicated enough at that time to pursue that passion."
"I was just out of high school, and I wasn't thinking about what I wanted to do. I wanted to hang out with my buddy. We were going to college to wrestle," Coleman said.
His classroom experience wasn't any better. When the second semester ended, so did Coleman's time at Campbell.
"As soon as I ended that year, I told my mom I had messed up… all that freedom and skipping classes and stuff," Coleman said.
"I was one of those people who thought you had to go to a four-year school out of high school," Coleman said.
He enrolled at GTCC in the fall of 2013 with a goal of entering the medical field.
"I have always had a passion for helping people, making them feel better about themselves and about life. That's primarily what anyone in the medical field does every day," he said.
At GTCC, his college career took off.
"At GTech, I was kind of revamped because I felt like I had something to prove," he said. "The classes were smaller when compared to 200. If I needed to ask a teacher a question, they were able to answer me face-to-face instead of an email. I'm not sure exactly what it was, but something clicked for me at GTech."
Two years later Coleman finished at GTCC and enrolled at UNC-Greensboro where he continued to flourish.
"I was more prepared after GTech. Coming out of high school, you're on your own for the first time. Having that structure and that foundation, knowing what college looks like, feels like and how to balance things is big. When I did go to UNCG after GTech, I had that feel of college under my belt."
Coleman graduated from UNCG in 2017 with a bachelor's degree in parks and recreation management with a concentration in recreation therapy. Today, Coleman works as a recreational therapist at Old Vineyard Behavioral Health Services, an acute care treatment center in Winston-Salem dedicated to helping patients achieve meaningful mental health and wellness.
A recreational therapist is a health care provider who uses leisure activities to help patients reach their goals. Coleman describes it this way: "I tell everybody I'm the fun guy. These people are going through a lot of struggles. I implement games as tools and resources that can improve their lives. At first, they are nervous and overwhelmed, but once you put yourself out there, it helps decrease anxiety."
Coleman says he believes his work has a positive, even life-changing impact.
"I hear from my patients all the time. They come up and thank me for helping them," said Coleman, who in his spare time is a model in Greensboro. "I had one who came up and told me he was leaving later today, and he wanted to thank me, that I had opened his eyes, helped him better his lifestyle. That gives me reassurance and validation."
Coleman recently experienced a full-circle moment that life often offers up. He was invited to speak at GTCC's convocation, to share his story of success and diligence.
"I thought it was an honor. It was kind of like a shock," he said of the opportunity.
"I got to give back that enthusiasm and motivation they had given me. If it wasn't for GTech, I wouldn't be where I am today. Without their compassion and support, I wouldn't be able to contribute the same thing in my career today."
Back to All Articles