Culinary student hopes to kick off career working abroad
Published on: October 3, 2022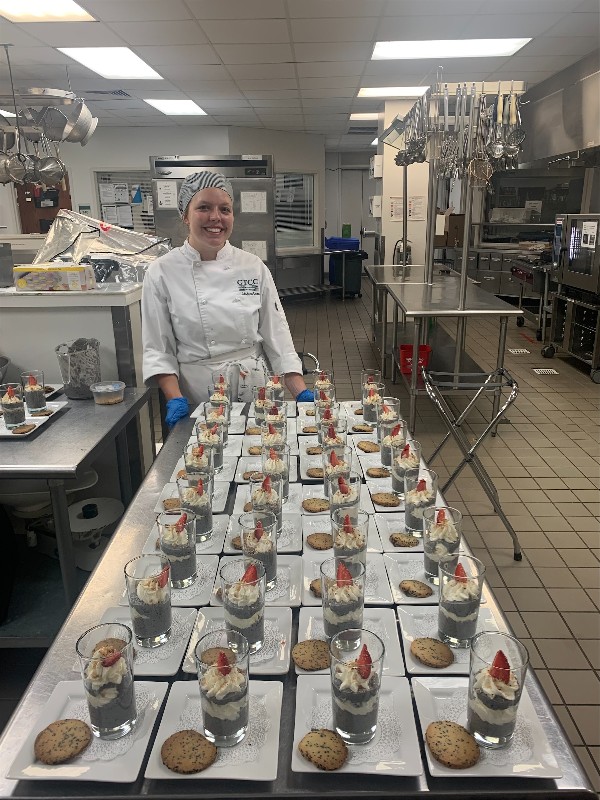 Madison Gore is a GTCC culinary student and student ambassador.
Madison Gore knows exactly what she wants to do after graduating from Guilford Technical Community College.
She admits her post-graduate work goal is a bit different from many and could be way more complicated than most. But she believes the experience and knowledge she picked up during her three years in the GTCC Student Ambassador Program will help guide her once she lands a job.
Gore has double majored at GTCC, taking on both the hospitality management and culinary arts programs. The program combination typically takes three years to complete, but Gore added courses she felt she needed, extending her GTCC stay by a year. Once she finishes next spring, she hopes to take her career abroad, at least to kick it off.
"I want to go to the Mediterranean — Greece, Croatia, Albania — and work in restaurants there," Gore said. "I would like to do that for two or three months. There are a lot of programs where you can do work exchanges."
She wasn't so sure about her future when she graduated from high school in 2019. An uncle pointed her in the path she has maintained.
"My uncle had been in the hospitality program at GTCC," Gore said. "I didn't know what I wanted to do, but I had worked in a restaurant since I was 15. He said, 'Why don't you give it a try?'"
In the spring of her first year at GTCC, Gore became interested in the Student Ambassador Program, comprised of select students who provide core support to the college while gaining the opportunity to network with college and business leaders and build confidence along the way. She was one of a half-dozen or so selected that spring and has been in the program since.
"I've worked dozens of events. I have been a greeter at events. I worked the (GTCC) Foundation golf tournament where I was able to talk to so many people," Gore said. "I feel it's been very important for how I've grown. I've never been shy, but I feel like in this role I've learned to be a leader. I've probably met thousands of people. I'm hearing different stories, people on different paths, interconnecting with people.
"The president is at a lot of these events," she said of GTCC President Anthony Clarke. "I met him when I started as an ambassador. He remembered my name, the program I was in, and he always speaks to me now. That's really special as a student. You don't think you'll ever connect with someone like that and for them to see you and recognize you …"
Gore says about 75 percent of her class load involves participation, especially on the culinary side. The culinary program has a working restaurant that serves to the public, and Gore says, "I'm in that class for about 10 hours a week working in the kitchen. Not even an hour of that is lecture."
That kitchen is where she had the idea of beginning her career abroad.
"This semester I'm taking global cuisine. Each week we do the cuisine of a different country. This week it is Scandinavian. Next week could be Italian," Gore said. "The class is like a fine-dining class. It's a three-course meal. We are cooking and plating the food."
With a semester and a half remaining at GTCC, she believes the beginning of her career is going to be different than most and not just because of the Mediterranean kickoff. It is because, like a three-star restaurant, she gives GTCC the highest marks available.
"I don't think I'll go to a four-year culinary school. I think the chefs and teachers at GTCC have taught me like I would have been taught in a four-year school."
Back to All Articles