Nepal native thrives on being involved at GTCC
Published on: October 18, 2022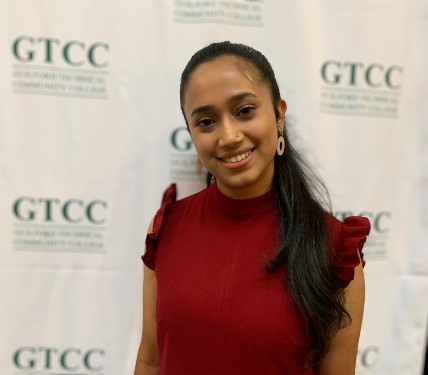 Jeshika Lamsal is the GTCC Student Government Association president.
When Jeshika Lamsal and her family moved from Nepal to Texas, it would have been easy for her to blend into the background at her new school. The same could be said three years later when the family relocated to Greensboro.
But the background isn't for Lamsal. She is front and center in life, positively attacking every day as a new adventure.
In a just over a year at Guilford Technical Community College Lamsal has been elected president of the Student Government Association, appointed the president of Phi Theta Kappa, the college's academic honor society, and earned a coveted spot in GTCC's Student Ambassador Program. And for added emphasis, she was invited to speak at the college's annual convocation at the beginning of this semester.
"I like to get involved. When I got here, I didn't want to be a student that just came to class," Lamsal said. "I wanted more in my life. When I was growing up in Nepal, I didn't have the opportunities that GTCC offers.
"Nepal is very different. It is a small country. It is a developing country. I went to school where my parents had to pay a lot of money. There are not a lot of resources, but it is a beautiful country."
Lamsal's father is an international journalist. He has covered stories in more than 50 countries. It was his work that brought the family to Texas, and it was a move that came with little notice.
"When I came to the U.S., I had to go to school within a week of getting here," said Lamsal, who started ninth grade in Texas. "Everything was different except my parents. High school was like a new life. In high school back in Nepal the teachers change classrooms; here the students do it. It was all so different."
Even though things were different, Lamsal charged ahead full force.
"I like to get involved. In Texas I started going to Toastmasters with my dad. I loved it. I love to talk. I became a mentor of public speaking there," said Lamsal, who speaks English, Nepali, Hindi and is learning Spanish.
The family's move to Greensboro after Lamsal's high school graduation came on short notice, too. She did have time to research colleges in the region and almost immediately landed on GTCC.
"I knew I wanted to go to a community college. A four-year college would have been too big of a transition for me," said Lamsal, who fell in love with Greensboro.
"Greensboro feels like home to me. North Carolina is home. Texas was a little too big for me."
She spent days dissecting the GTCC website, attempting to learn as much as possible about the college. The ambassador program jumped out at her.
"I knew about the ambassador program before I got to GTCC. I had searched the GTCC website … I looked at every page. I had written a goal in my notebook: I wanted to be a student ambassador and an SGA representative."
Lamsal said she cannot quantify the value of her involvement in the ambassador program. From a retreat where she learned team building and etiquette to working events surrounded by business leaders and GTCC board members, there are constant learning opportunities.
"I'm very excited about this. I've let the (GTCC) foundation office know how great this opportunity is for me. This opens doors for us, and I'm so thankful for those little things they help us in life with."
Lamsal has been accepted at UNC-Chapel Hill and plans to there next fall. Her plan is to finish undergraduate work at UNC in two years and head to law school after that.
"I'm a little scared because GTCC is like a second home to me, and I don't want to leave it," Lamsal said. "But I'll come back. That's for sure."
Back to All Articles